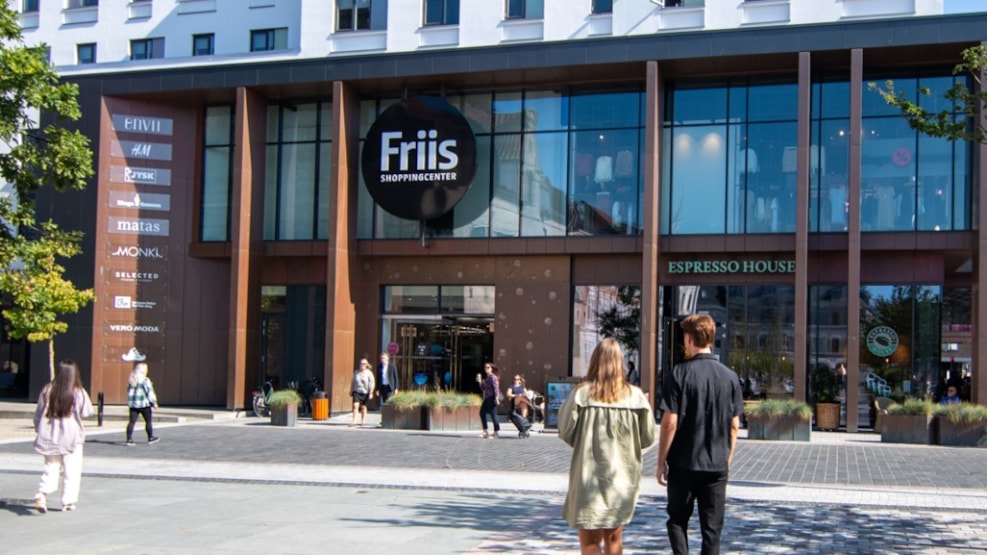 Friis Shopping Centre
Need to renew your wardrobe? Are you hungry or just looking for great experiences? Then visit Friis Shoppingcenter. A stylish shopping centre in the heart of Aalborg with great parking opportunities.
Friis Shoppingcenter offers a huge selection of excellent shops, delicious cafés, cosy seating areas and great experiences. You will find fashion stores with Danish and international brands like, H&M, Envii, Vero Moda and Tiger of Sweden and the cosmetics store, Matas. The shopping center also offers eating opportunities like the juice bar Joe & The Juice. You can find all the shops in Friis Shoppingcenter, Aalborg here.
Central and easy parking
Friis Shoppingcenter is located in the heart of Aalborg, neighboring the waterfront, Musikkens Hus (the House of Music), the Utzon Center, Nordkraft and the city's many other shops. Friis is named after a local merchant, who played an important role in getting Aalborg to be more attractive making Aalborg a more attractive back in the day.
If you arrive by car, Friis Shoppingcenter has a large parking basement with 850 cheap parking spaces, divided into four levels. The first hour of parking is free. After the first free hour, the parking fee is only DKK 14 per hour. The parking basement automatically reads your license plate number. You therefore simply enter the parking area and pay when you leave, by entering your registration number at one of the payment machines. You can also download the app 'EasyPark' so that payment happens automatically. Here you can find more information about parking in Friis Shoppingcenter.
Cosy oasis and great experiences
Friis Shoppingcenter has several cosy oases where you can relax in a tranquil environment. For example, you can visit the lounge in the glass corridor next to the hairdresser, Poul M. This lounge provides a delightful, naturally lighted area, furnished with recycled materials and various plants. Here, you can relax in furniture made from pallets or do your daily job while enjoying a cup of coffee and the view over Nytorv. With plenty of power sockets for laptops and smartphones, you can easily spend hours in the comfortable lounge.
Read more about Friis Shoppingcenter in Aalborg and the various events taking place there… (In Danish)