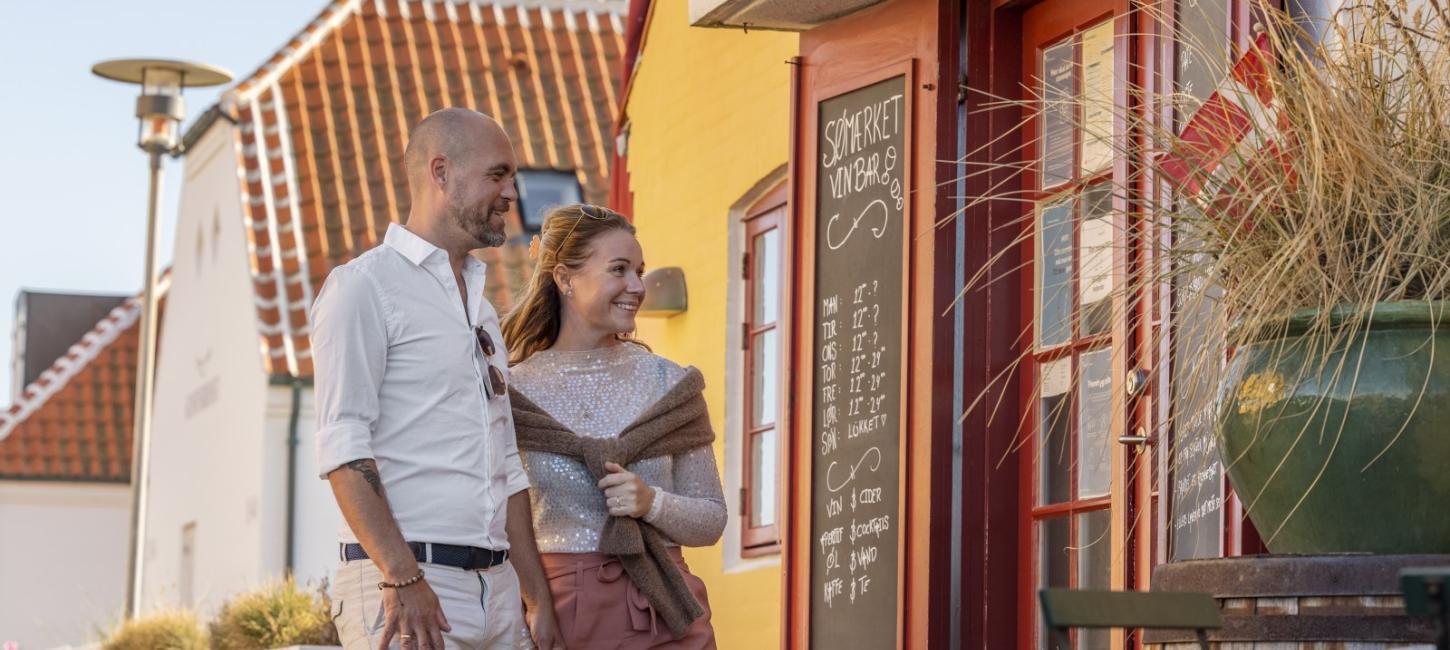 Guide: two days of enjoyment in Skagen
That special light and atmosphere cant not be matched anywhere else in Denmark. Welcome to Skagen: the perfect destination for for connoisseurs, nature lovers and art lovers.
For those of you who love slow mornings at lavishly set tables, want to experience nature like no other and don't compromise on the bed you have to sleep in. In Skagen you can have it all, and here's our take on two magical days in Denmark's northernmost city.
Day 1
Morning
Start off soft with good sourdough bread and hot coffee at Skagen Bageri & Café on Sankt Laurentii Vej, for a good foundation for a nice and long day. We think you should continue to some of what Skagen is best known for – namely Skagen's Art Museums, where you can get up close to the pieces and works at Skagen Museum, Anchers Hus and Drachmanns Hus. The museum shop is also worth a visit - you might even be lucky enough to see the conservators working in the workshop.
Noon
Right next to Skagens Museum you will find your lunch spot: Brøndums Hotel, where tranches, flambés and fillets are still served at the table. Here, the food just tastes better, and you can, among other things, get traditional Danish smørrebrød and enjoy the signature dish stjernesskud. Then it's down to the water and up along the beautiful Sønderstrand. First you come across the tilting lighthouse, and a little further north you see Det Grå Fyr – a majestic monument in the middle of nature. Here you can settle down and look for birds or go all the way to the top and enjoy the view. Now you can slip to the Skagen Odde Nature Center or take the Sandormen to Grenen, where the Skagerrak and Kattegat meet.
Evening
Eat your dinner at Blink on Fyrvej. Here you eat locally – fresh fish, vegetables from their own field, eggs from Bøgebæk, berries from Knud on Eskebæk and seaweed from the beach. Relaxed atmosphere and full speed on the taste. End the day in Kulturhus Kappelborg, which hosts everything from events and concerts to lectures. There are events both on weekdays and at weekends, and the genres are incredibly broad, so there is something for everyone. For example, keep an eye out for Saturdays, when there is often afternoon jazz.
As the last thing: Find your way to the Sunset Square in Gammel Skagen, and watch the last rays of the sun dance before slipping into a cozy bed at Ruths Hotel in one of the fine rooms with a seaside hotel atmosphere.
Day 2
Morning
After a good night's sleep, you may be tempted to have a morning dip before sitting down to the delicious breakfast buffet. Satisfied and happy, you should take a trip around Gammel Skagen, the original fishing ground, where the yellow houses are scattered like pearls over the landscape. Now the trip goes to Skagen Harbor and the Machine Room on Jollevej, where you can, among other things, geek out on engines and get answers to everything between heaven and earth.
Noon
Well enlighten, you only need to walk a short distance to the iconic red fish warehouses, which house the Skagen Fish Restaurant, which has served fresh fish and live music for over 50 years.
With permanent artists and changing exhibitions, Galleri Wolfsen now entices you inside for a curious look before you continue to the pedestrian street and Sankt Laurentii Vej, where you can shop at Bellevue Vintage, among other things.
Now you can either take the car or rent a bicycle to take a short trip of approx. 2.5 km to Den tilsandede kirke, where you can only see the tower – the rest is buried in sand. Afterwards you can roll them approx. 14 km to Råbjerg Mile, Denmark's largest walking dune, which moves a full 15 meters every year.
Evening
End this lovely day by checking in at your hotel- Color Hotel Skagen – where you should visit the hotel's own restaurant, Restaurant Holger. Here you eat Nordic with a touch of Skagen, and you can visit the completely unique walk-in wine cabinet and find a wine that fits perfectly with your menu.
After two days in Denmark's northernmost city and with your luggage full of experiences, sea on both sides and art of all kinds, you can now safely settle down at the city's only 4-star hotel.