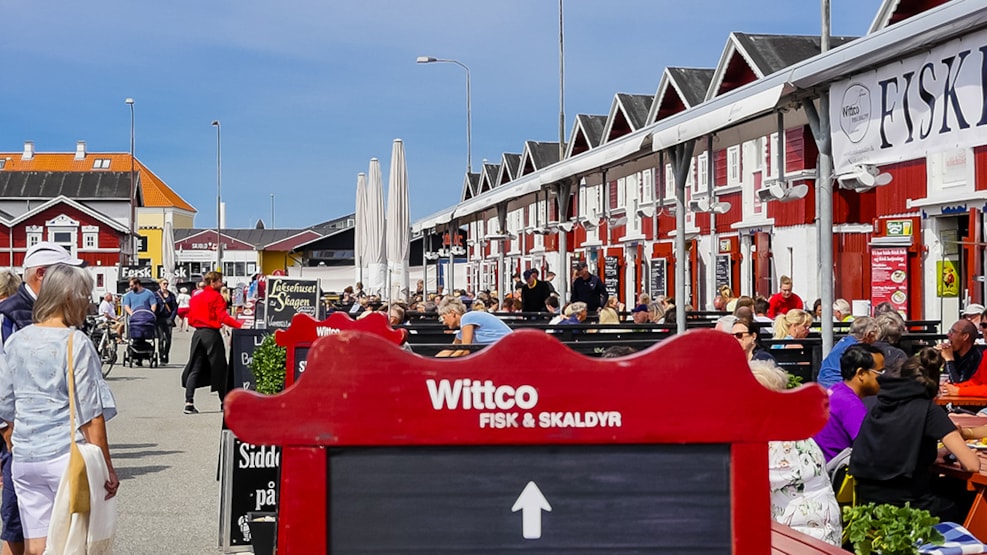 Wittco Fisk & Skaldyr
"Wittco Fisk & Skaldyr" has been in the last part of the famous Bindesbøllhouses at Skagen Havn since 1987 and is today a larger restaurant, run by two generations and accommodating 180 guests outdoors and 50 seats indoors in the 1st floor.
"Wittco Fisk & Skaldyr" are known for their live menu - that means that all dishes are displayed on plates in the shop so you can see the menu of the day. In addition, they offer a large selection of seafood salads, different salmon, herring, etc., which you can also compose Your plate from.
All delicious seafood salads are made from the bottom, the salmon is home-made and the fishcakes are home-baked and fried with loving hands.
At "Wittco Fisk & Skaldyr" there is a wonderful atmosphere with life and happy people from the start of the season at Easter until the autumn holidays in week 42.
Try yourself - "Wittco Fisk & Skaldyr" are looking forward to welcoming you in the last houses on the quay in Skagen, whether inside or outside!
On the 1st floor of the restaurant there is a Fishbuffet for the whole family. The fishbuffet is open on selected days - check the Facebook page for more information!