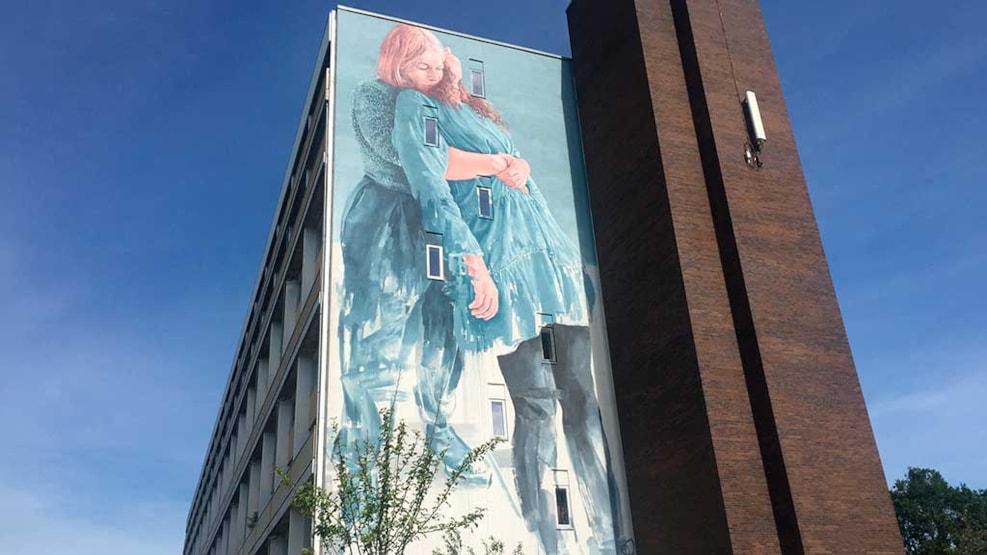 Street art "Out in the Open" - Fintan Magee - Tove Ditlevsens Vej 36
Fintan Magee has recently finished a giant new piece as a part of Out in the Open 2019. The artist has made multiple gable painting all over the world and is well recognized in the world of Street Art.
It has been an amazing process to receive a visit from the Australian artist, tells KIRK Gallery. The artist has been working very intensely on the gigantic gable painting for almost 14 days. Through his piece, Fintan Magee expresses his gratitude towards trust between people, something he on Tove Ditlevsensvej. With a view over Aalborg, at the top of Vejgaard, you can experience the astounding new piece "Structure". The Art has is painted with loose and transparent strokes at the bottom, but in the top details flourish, creating a beautiful contrast in both layering and material in the huge piece. Almost as aquarelle, as Fintan Magee expressed it himself.
About the artist Fintan Magee
Fintan Magee has made multiple paintings all over the world and is currently amongst the top street artist worldwide. Born in Lismore, New South Wales and raised in Brisbane, he got a reputation as graffiti storyteller, even before he graduated. His work often addresses environmental questions or based on personal experiences. He uses his personal stories to talk more widely about climate change and immigration. He received national recognition for his wall painting, which depicts Felix Baumgartner, in Brisbane and has participated in many public art events all over the world. In 2009 he finished his bachelor's degree in Fine Arts from Griffith University, Queensland College of Art in Australia.
Read more about Fintan Magee…