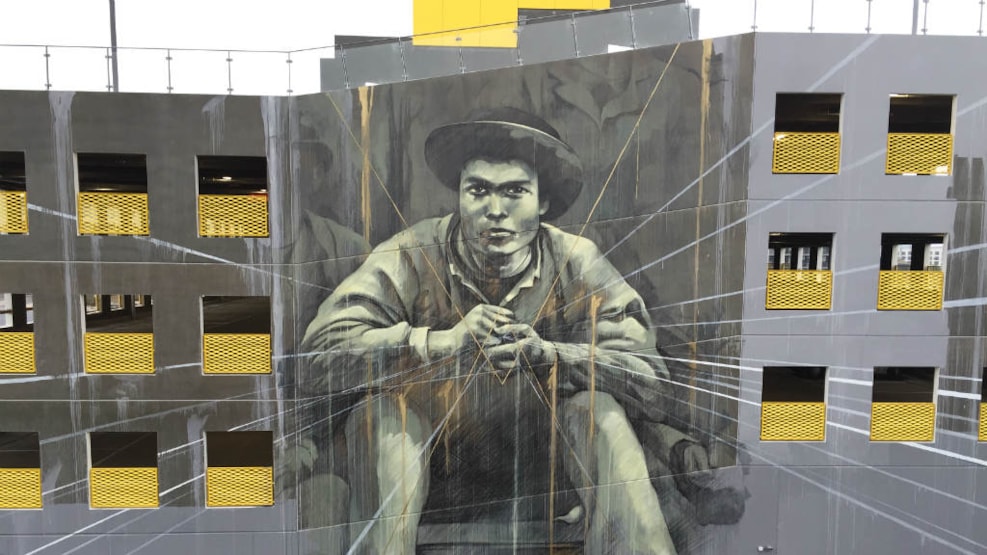 Street art "Out in the Open" - Faith47 - Østre Alle
Over the last 15 years, Faith47 has painted impressive murals around the globe. They all take the human experience and human emotions as points of departure – including the mural in Aalborg.
Faith47 is inspired by everything she sees when travelling the world: broken cars, faces filled with emotions, old factories, dusty roads and so much more. Essentially, she is inspired by everything that tells an authentic story about human experiences in different environments.
Faith47 touches upon themes of dreams and human vanity and fragility. She is humble regarding the destructive and creative forces of human life, and for that reason, her art is both metaphorical and full of meaning, always with a touch of greater existential considerations.
The mural in Aalborg depicts a young man, working at the railway in Aalborg during the 19th century, and the mural helps draw lines between a distant past and today.
This mural is part of the Out in the Open project by Gallery Kirk.
Read more about Faith47...