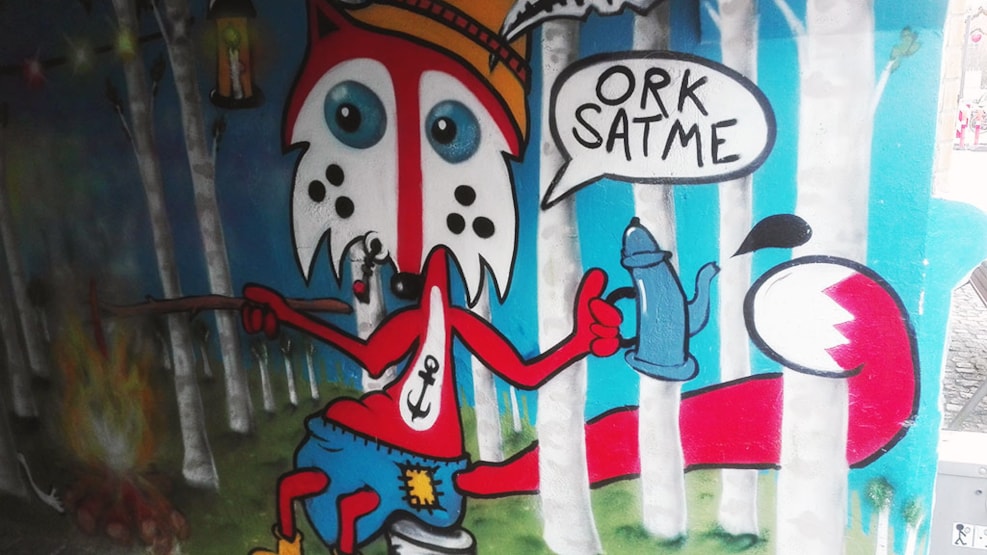 Street art - Jonny Hefty & Mester88 – Boulevarden 29
The local artists, Johnny Hefty and Mester88, are the artist behind the mural that you can find at the port between Boulevarden 29 and 31.
Rolf Rejnholds is the man that goes under the alias Mester88. He has together with Jonny Hefty painted on the walls of Aalborg. The characteristic art piece is a portrait of a fox, but it's not just any fox. Originally designed by Jonny Hefty, 'Muggen Ræv' or 'Moldy Fox' is a play of words hinting to a song he wrote. The fox can be discovered on multiple walls in Aalborg.
Mester88
"People connect graffiti with young people and crime, but us, those that live off of the art, are gradually getting older," says Rolf Rejnhold in an interview (originally in Danish). Both Rolf and Jonny have turned 50 but that has not held them back with their art. The graffiti artist continues to create art all over the country, and of course also in Aalborg. Explore more of Mester88 art here. 
Jonny Hefty
Jonny Hefty is both a rapper and street-art artist. When Jonny in 2012 moved back to Aalborg he began to paint the fox. It became a part of Aalborg as people were going on 'hunts' to see where the fox had been painted. In 2019 the fox even became Aalborg's Christmas stamp.