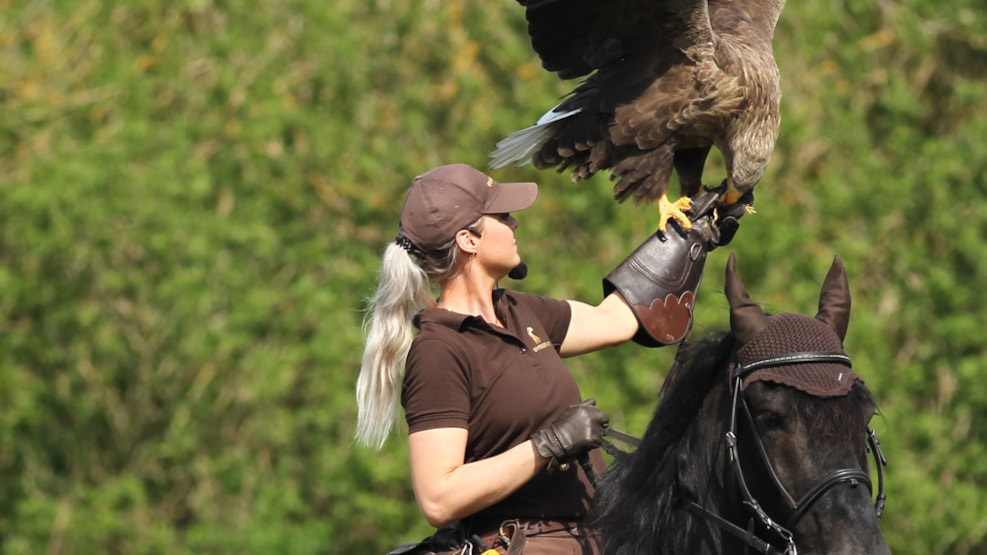 Ørnereservatet - Eagleworld
Get close to the kings of heaven - the eagles as they unfold just above the head of the audience. Get close to the big animals and see how the falconers demonstrate the birds of prey.
An attraction of world class and an experience for a lifetime!
Experience the majestic eagles and see them spread their wings above you. You will find the reservation 24 kilometers outside of Hirtshals on the way to Skagen. After the dune plantation of Tversted you will find the amazing attraction.
Ørnereservatet, or Eagle World opens the gates for the amazing world of these bird of prey. Experience the amazing white-tailed eagle with its amazing wing span, the golden eagle being the unchallenged hunter of the sky and the falcons with its amazing hunting technique. Get close to the largest eagles of the world and see them get fed and fly above Tversted.
Frank Wenzel has 30 years' experience and knowledge and has provided Denmark with an international first place within the knowledge of the biology and culture of the eagles. At the reserve the audience will be provided with knowledge and understanding of the eagles and thereby protect the eagles in the wild.
One of the highlights of Eagle World, are the 'forevisninger' or the show where the falconers ride around in the reserve and trains the falcons. Experience the amazing show and se how the big bird of prey displays their flying techniques.
The shows last an hour and will also include a lecture about the eagle's way of life, culture and history. Take a visit to the exhibition which will inform more about the eagles.
The reserve will open 1 hour before the shows, and here you can explore the reserve on your own.
These eagles are only found in Eagle world, and here they live, train and breed.
For more information about opening hours and price, go to this link.