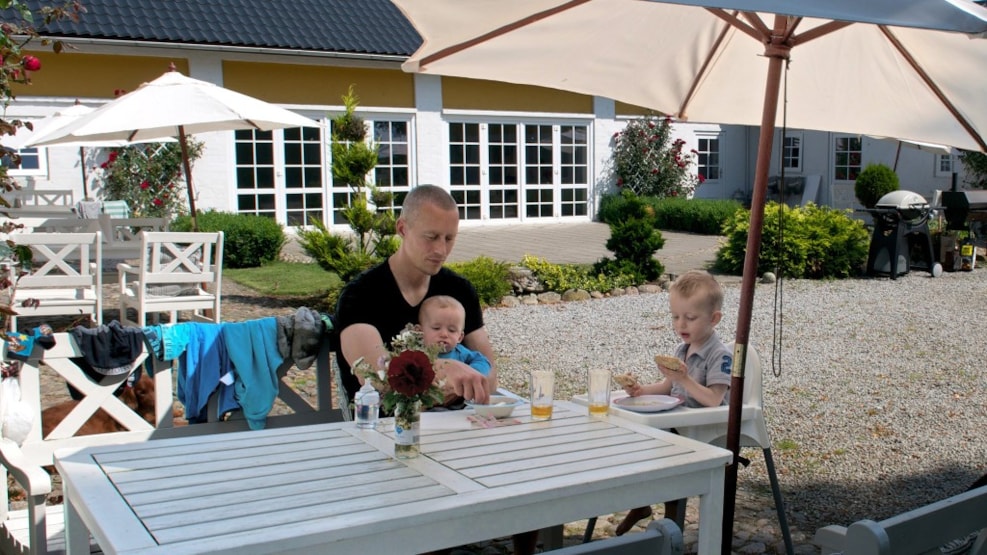 Nymarksminde Bed & Breakfast
Nymarksminde Bed and Breakfast is located in the best surroundings - surrounded by green nature and close to Aalborg. Enjoy peace and country idyll with the family and give the children the experience of real farm life. It is cheap accommodation close to country and city.
Scenic surroundings
Although you might think that Nymarksminde is well located in the countryside, with all the beautiful nature around, it is only a 10 minute drive from Aalborg - and 1 km from the cozy town of Vodskov, where you will find every conceivable facility such as supermarkets, pizzerias, bakeries, and specialty stores.
Own holiday apartment with room for the whole family
At Nymarksminde you will find 10 lovely holiday apartments, which are rented out all year round to guests from near and far. If you and your family are going to visit friends and family in North Jutland during the year, or maybe for a winter trip to Aalborg, you can stay in the beautiful bed and breakfast apartments. There are two sizes of apartments - a "standard" with room for four people, and a "large" with room for six people. This is also an ideal place to stay if you work far away from home.
All apartments have their own entrance, kitchen and bathroom. Breakfast can be purchased if desired. There is also free WiFi, TV, chromecast and laundry facilities. As a bed and breakfast guest at Nymarksminde, you have free access to all activities - including the Farmpark and Football Golf during opening hours.
Easy access
The bus from Aalborg stops right in front of Nymarksminde. The place is also close to exit 18 on the E45 Frederikshavn motorway. It is therefore easy and straightforward to stop at Nymarksminde.