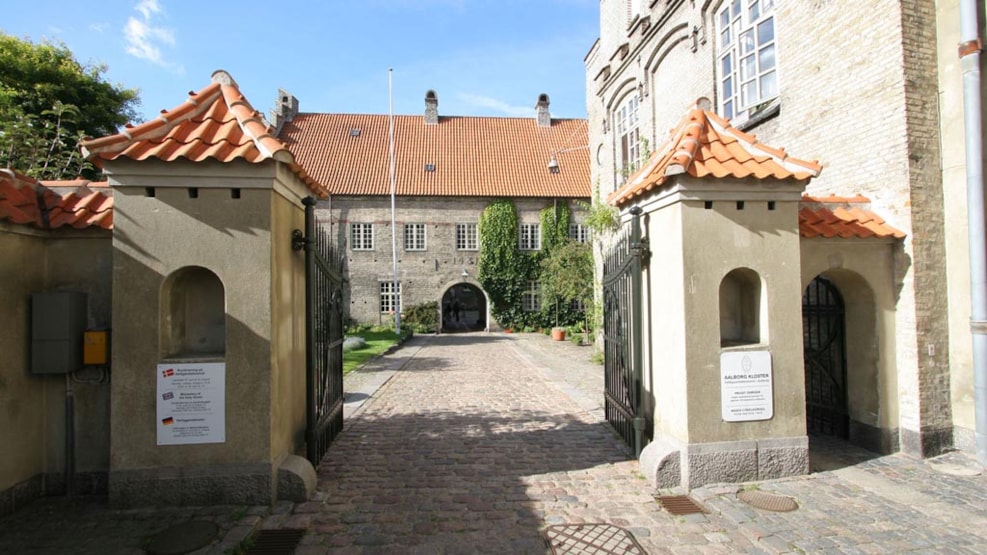 Monastery of the Holy Ghost
The Monastery of the Holy Ghost is the oldest social institution in Denmark. After the Reformation, the monastery became a hospital and Aalborg's grammar school was housed here for nearly 300 years.
You will find The Monastery of the Holy Ghost, also called Aalborg Monastery, in the center of Aalborg. From C.W. Obels Plads, you can take a look into the cloister, which is a quiet and peaceful oasis in the bustling city. Today, the monastery houses 28 senior apartments, making it the oldest residential property in Aalborg. When it was built, Aalborg Monastery was located near the western border of town. Today, it is located in the center of the city, which shows the enormous development Aalborg has gone through since then.
In the beginning of the 1400s Aalborg was progressing, and the location by the narrowest part of the Limfjord and the old streams had attracted many enterprising men and women from North Jutland. As the population grew, so did the need for a Christian institution in the area – a place for underprivileged citizens to seek comfort and help. And they were many! With the help of a kind-hearted and wealthy woman named Maren Hemmings, the founding stones of Aalborg Monastery were laid in 1431. On August 20th, Maren established an institution where all the needy, underprivileged, disabled and ill citizens of Aalborg could find shelter, solace and help.
Aalborg Monastery's hidden resistance cell
Aalborg Monastery's status as protector benefited a group of boys from Aalborg just before Christmas in 1941. Here, the monastery housed the Churchill Club, one of the first resistance cells in Denmark during WWII. Two of the group's members, the brothers Knud and Jens Bue, were sons of the abbey church priest, and thus the monastery was a perfect place to have secret meetings. Later on, Aalborg Katedralskole (Aalborg Cathedral School) became the group's primary meeting place.
Ghosts at the monastery
According to old tales, things were not always merry at the old monastery. Rumor has it that not only one but two ghosts wander the monastery at night. One is a woman, who was immured into a pillar in the cellar after a stormy relationship with a wealthy man. The other monastery ghost as a man who wanders the corridors of the monastery restlessly on the night before New Year's day.

Guided tours can be booked through FOF (tlf.: +45 9813 8233). 
Read more about Aalborg Monastery...