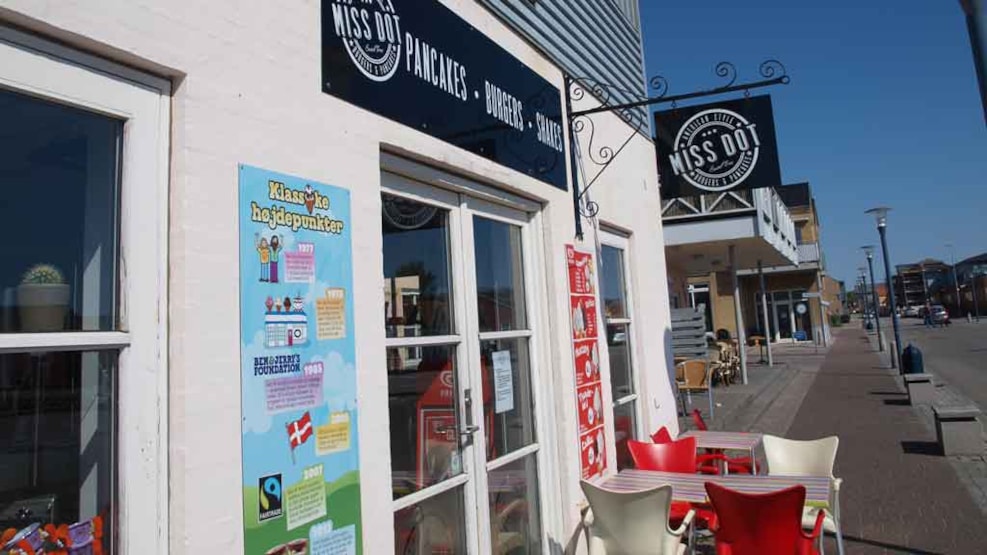 Miss Dot
Experience the real American spirit of the fifties when the doors to Miss Dot opens, here there is a cozy and evocative American style Pancake & Burger Restaurant in the centre of Hals.

Here you will find everything one's heart desires from well prepared and tasty American inspired dishes and the menu cart at Miss Dot is filled with everything from cold milkshakes to burgers and pancakes in all shapes and sizes and with new and unique flavour combinations.
Previous Rasmus Klump restaurant
I the spring of 2016 the Rasmus Klump Restaurant changed name to Miss Dot. There are still pancakes and ice cream on the menu, but now you can also enjoy a lovely milkshake and burgers.
At Miss Dot, they have pancakes as their speciality and both children and adults can enjoy salty as well as sugary pancakes, which can be served true American style as "a pill of pancakes".
American diner feeling at Miss Dot in Hals
The nice 50's feeling is not only visible in the menu, also the interior decoration is strongly inspired by the American diners of the time and the trends of the time is very clear. With a focus on nostalgia and glamour in a combination of the cosy and casual, you will feel like you are back in time with Miss Dot, where the desire to self indulge and the good experience is valued.