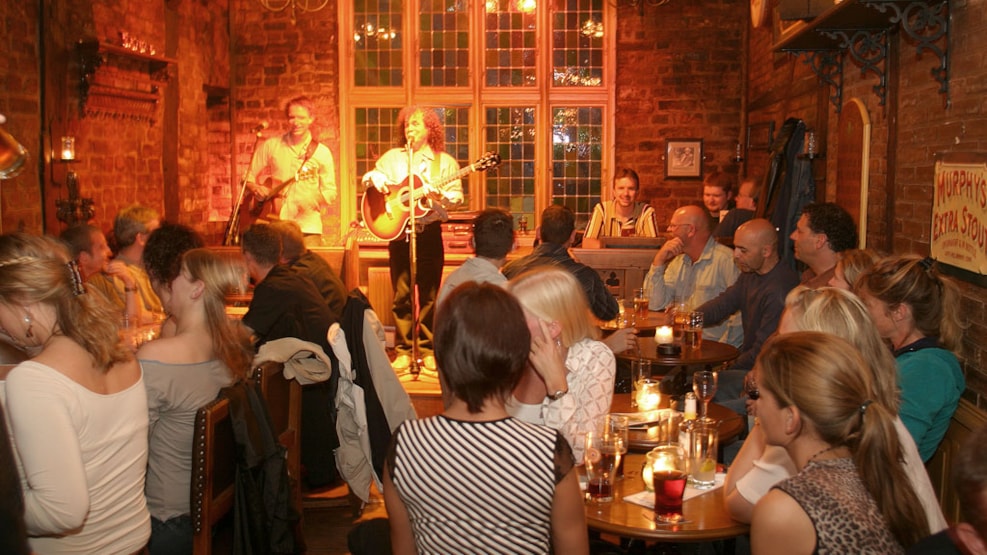 The Irish House
If you are looking for a place in true Irish style – The Irish House is the place, perfectly located by the lively Nytorv and in charming surroundings!
The atmosphere is cosy and inviting with events that count both live music from Thursday through Saturday, as well as sports on the giant screen every day of the week. Moreover, there is a broad selection of both Irish and Scotch whiskeys, as well as delicious Irish pub meals.
Traditional Irish Pub
At the Irish House it is always possible to watch a game of all major sporting events – whether you are into Premier League, Rugby Union, GAA, cricket or golf.
The menu includes Irish specialities, such as Irish Coffee, pint of delicious Guinness or Irish Stew, which makes the Irish House feel like "a home away from home".
If you are in a competitive mood, you can go and get your name on their prestigious "The Yard of Ale" leader board.
Perfect location
The Irish House is perfectly located in the absolute centre of Aalborg right by the lively Nytorv – only a stone's throw from the popular "Aalborg Havnefront", which offers something for everyone, e.g. swimming in "Aalborg Havnebad", green spaces and a sports ground. 
Aalborg Beerwalk
The Irish House is part of Aalborg Beerwalk – a great way to familiarise yourself with the best pubs in Aalborg. With this offer, you can sample 6 well-poured special beers from 9 different pubs in the centre of Aalborg.
The Irish House is open all days during the week – however, with differing opening hours, which can be seen in theirishhouse.dk

You can find additional information at the Facebook page of The Irish House.