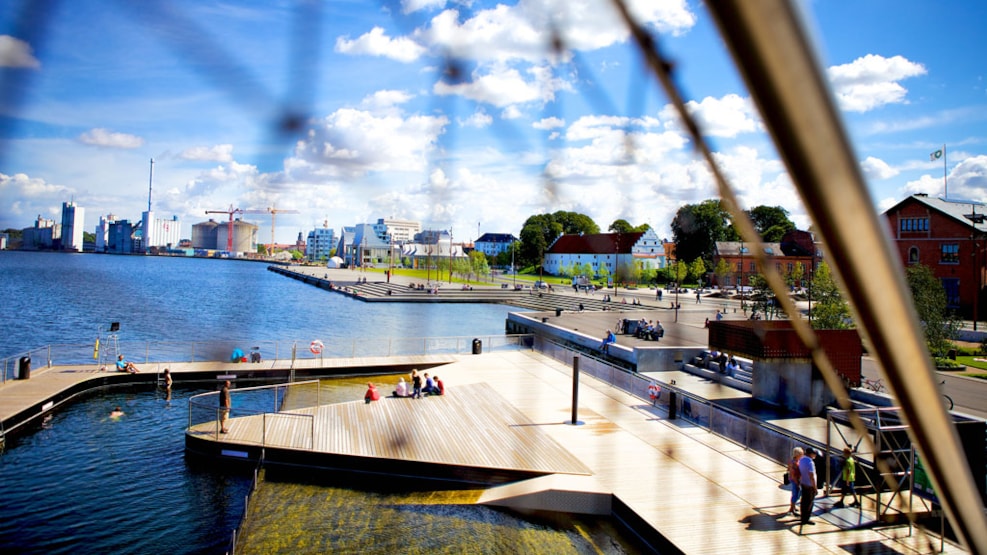 Aalborg Havnebad
During the summer, Aalborg Havnebad opens its doors for great fun for the whole family. Here there is room for both pure relaxation, jumping in the water, training, or something completely different.
Aalborg Havnebad is the perfect alternative for those yearning to jump into the ocean without the time to get to the beach. The small cosy outdoor swimming pool allows you to 'escape' a little from everyday life, read a good book under the sun's warm rays and jump into the fresh fjord water. Another reason to go is the central location which is just in front of Jomfru Ane Park and right next to both pubs and restaurants which are just around the corner.

Aalborg Havnebad, which is a floating platform, provides space for both kids and adults. You will find a children's and play pool with shallow depth and solid bottom, as well as an exercise pool and a dive pool. In the middle of it all, the tall ship tower stands and towers towards the sky, while offering dive platforms, climbing wall and sunbathing stairs. As a bonus, Aalborg Havnebad well-trained lifeguards are always ready to help.

Read more about Aalborg Havnebad in Aalborg (in Danish)...
Travel sustainably with bus and train in North Jutland
Getting around North Jutland with public transport is effortless. Plan you trip with bus, train or 'Plustur' on rejseplanen.dk.