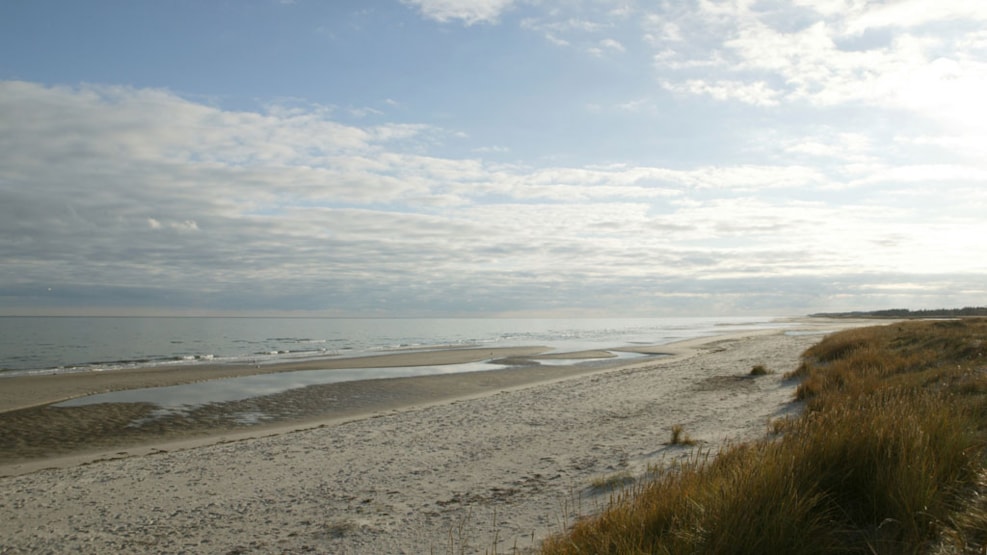 Hou South Beach
Hou South Beach lies as a natural frame around the cozy town of Hou. The beach is six kilometres long, reaching all the way down to Hals. It's kid-friendly and easily accessible from Hou.
Denmark's beaches are filled with treasures. On the East coast, you can go hunting for beautiful rocks and stones, the perfect souvenir to remember your trip by, as each rock carries a story. If you are particularly lucky, you might be able to find a piece of amber. Amber litters the Danish coasts, and more wash up on the shores each year.
Safe on the Beach
Remember to take precautions, even when a lifeguard is on duty. The Danish Council for Greater Water Safety has eight tips to a safe trip to the beach. These tips will not only make your trip safer but also more worry-free.
Each Danish beach has a rescue number (redningsnummer). The rescue number for Hou South Beach is E551. If an accident does happen, and there are no lifeguards or other authorities to handle the situation, you simply call the emergency hotline, state the rescue number of your beach, and they will know exactly where you are.
Looking for the white flag is a great way of ensuring that the beach you are at lives up to the highest standards. On the East coast near Aalborg, Møllestenen Beach, Bisnap Beach, Hou South Beach, Hou North Beach and Egense Beach have all been deemed worthy of the white flag, meaning clear water, emergency phone, toilets, and much more to ensure a safe and fun trip for all.
Bringing Pets to the Beach
Pets are universally allowed on Danish beaches, unless otherwise specified. Some beaches do not allow pets, even when leashed. In the summer months of the year, meaning from April to September, all dogs must be leashed in designated beach areas of Denmark. However, if you are visiting between October and March, you can let your dog off the leash if it is properly trained to be without it.
It gets very warm during summer, and kiosks and other vendors are in short supply on Danish beaches. Take precautions and make sure to bring water and means of shade for your pets. Remember that Danish weather can also become quite cold, so if it seems chilly, the ocean water is definitely cold. Bring towels and blankets for your dog to warm up with after a trip in the water.