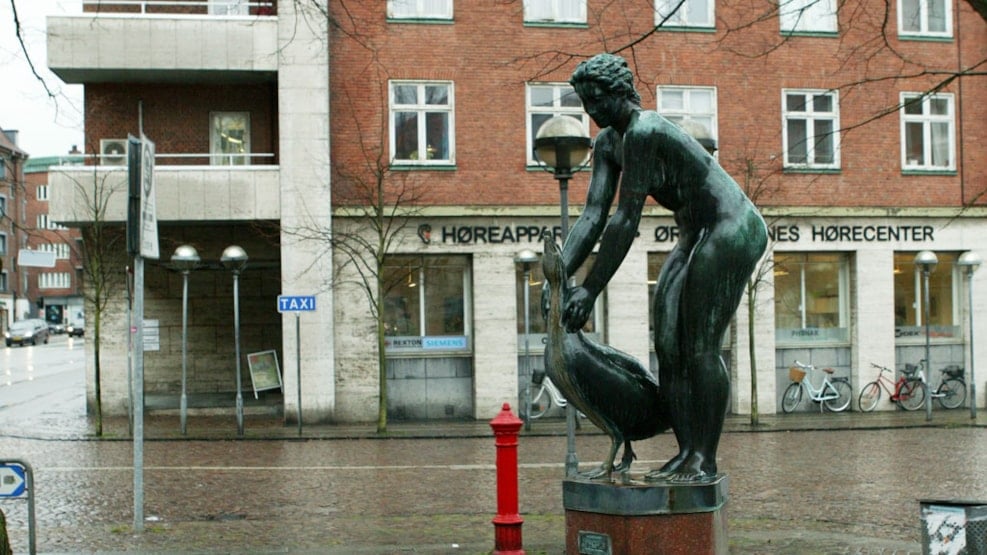 The Goose Girl
On Vesterbro, right in the center of Aalborg, you will find 'Gåsepigen' (The Goose Girl). 'Gåsepigen' is one of the most beloved sculptures standing in Aalborg and features a girl standing with a goose.
The two main figures of the sculpture, the girl and the goose, have given the sculpture its name. The granite pedestal is based on drawings by Kaare Klint.
The short history of 'Gåsepigen'
C.W. Obel celebrated his 150-year anniversary in 1937, and to celebrate he donated a sculpture made by one of the leading artists of that time, the Swedish-born sculptor Gerhard Henning, to Aalborg city. Gerhard Henning, who was affiliated with the Royal Porcelain Factory in the years 1909-1915, successfully accomplished the great assignment given to him by C.W. Obel.
At the unveiling of 'Gåsepigen' on June 26th, 1937, the citizens of Aalborg were able to admire the beautiful sculpture 'Gåsepigen' on Vesterbro for the first time, in the presence of the Prime Minister of the time, Th. Stauning, and the CEO of C.W. Obel, Frederik Obel. The sculpture is still to this day admired by guests from all over the world.