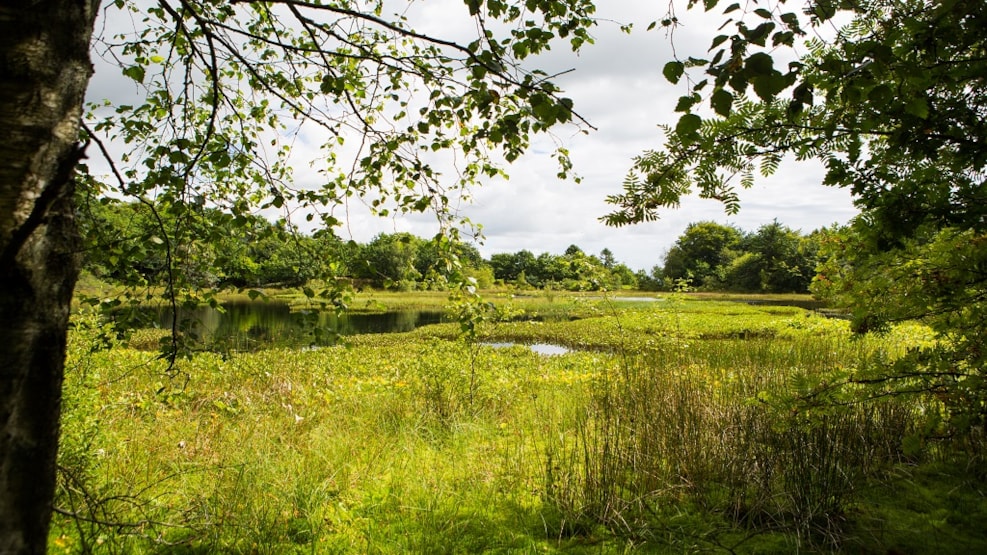 Dronninglund Forest and Sømosen
Dronninglund Storskov is an ideal place to enjoy nature from your bicycle or while hiking. Follow one of the many trails through the forest and get a few historic insights while you are on your way.
Dronninglund Storskov is a coniferous and beech forest located north of Dronninglund in Vendsyssel. The forest measures about 900 hectares and is situated in a hilly landscape. The forest has many hills, among others the one called Knøsen, which is 136 meters above sea level and thereby the highest point in Vendsyssel.
Hiking in Dronninglund Forest
Follow the marked trails in the forest.
NB: The routes are not suited for walking-impaired, wheelchair-users or other vehicles.
The Chapel
The Chapel, which lies near Kærlighedsbøgen (the "Love Beech"), was built in 1938 by the forest officer of the time, who was a Catholic.
Troldstenen (the Troll Stone)
A bit south of the chapel, you will find Troldstenen, which is one of the big stones that the troll was to throw at the village Gl. Kirk. Troldstenen is called 'ønskestenen' (the make-a-wish stone). The story goes that if you deeply wish for something while climbing the stone, your wish will come true – but only if you do not tell anyone about your wish.
Is that really true?
At a special location in the Forest (address: Skovvej 14-18), the natural laws have gone berserk. Water actually flows uphill, where it is supposed to flow downhill. Especially, if you visit by bicycle, you will feel the unexplainable phenomenon. When you race downhill, you have to suddenly start pedaling in the middle of the hill in order to not stop going. Likewise, your bicycle can roll uphill without you pedaling at all.
Visit the place yourself and experience the unexplainable.
Sømosen
Sømosen is a high moor located between the hills of Jyske Ås (the Jutlandic Ridge) in the southern part of Dronninglund.
Sømosen carries an interesting history of people of the past and is definitely worth a visit.
Up until the last century, the slopes of the high moor were inhabited by more than 40 families, and these people were all traders, artists, entertainers and musicians. The families were attracted by the desolate area of the moor. During winters, they lived in primitive cottages and caves, and during summers they went round the country and performed.
The car park at Kirkevej is free to use.