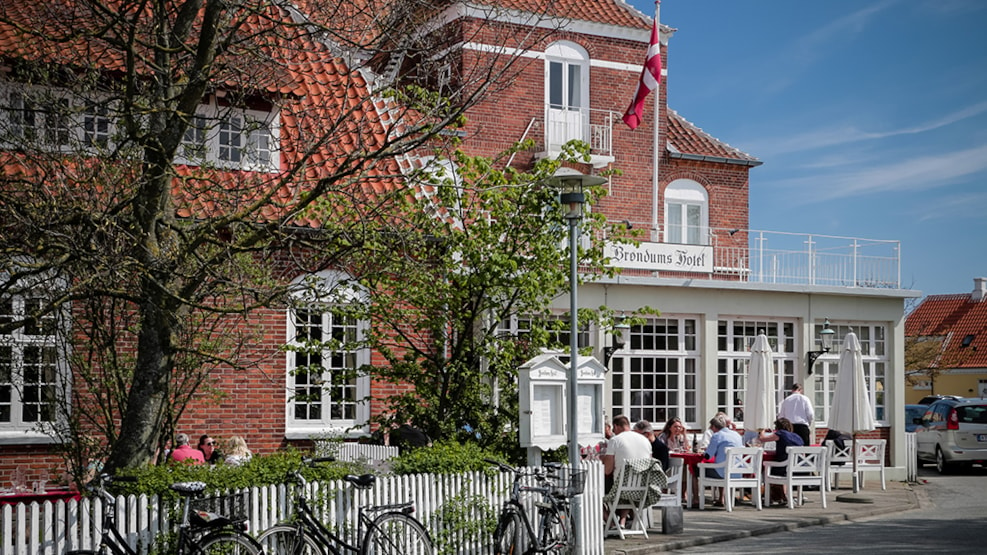 Brøndums Hotel
In the center of Skagen lies the historical Brøndums Hotel, which served as a framework for a lot of the things, that has made Skagen famous today. The food has throughout history been a central pivot for Brøndums Hotels.
Brøndums Hotel has always had a fascinating history, already in 1839, where the painter Anna Anchers grandmother, Ane Kirstine Houmann (married Brøndum), inherited the Brøndums farm. The farm was at that time a grocery store and a profitable establishment. At Ane Kirstine's death, her son, Erik Brøndum, took over the farm together with his wife, Ane Hedvig, who is today referred to as Madam Brøndum.
The visiting artist enjoyed the food at Brøndums Hotel and described it in exalted terms for their friends at home at the academies and since then it has been one of the cornerstones of a successful stay at Brøndums Hotel.
However, not everything is as in the artists' time, which can be seen in the restaurant's inspiration menu. Here, creativity unfolds and some of the season's very best ingredients are put together in new and exciting ways. The taste buds embark on a wonderful journey and an all-night experience at Brøndums Hotel, which can feel like going on an adventure. In addition, the open sandwich (smørrebrød) occupies a central position on the lunch menu, where new and exciting open sandwiches are often developed with respect for traditions.