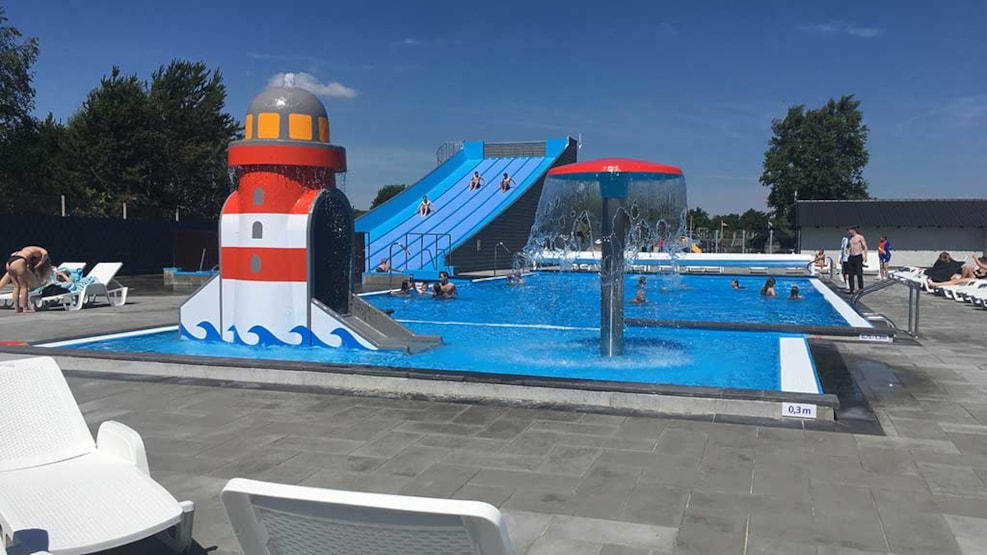 Aqua Park with Surf Hill Slide
Exclusive Aqua Park with 3 pools, 26o C water, a giant water slide, water cannons, bubble zone, water slide for kids, and a rippling waterfall. On the sun decks, you will find the summer's relaxation.
At Hals Beach Camping's new Aqua Park it will feel like you are visiting a southern vacation spot with a sweet water park – it offers everything that a summer-loving water park-enthusiast desires. The three pools include an impact pool where the giant surf hill water slide leads, a large pool with a slanted bottom as well as water cannons and a bubble zone, and a kids' pool with a lighthouse, a water slide, a bubble zone and a mushroom with a waterfall. On the sun-terraces, the sun-beds await, side-by-side, ready for the vacation to begin with real summer relaxation.
Perfect for the entire family – or for an hour of recreational joy
The magnificent waterpark offers the perfect vacation experience for the entire family. The kids can frolic free in the warm water, and the parents can enjoy watching the kids play while each enjoying the comfort of a sunbed. When the desire to go for a dip with the kids kicks in, the large pool with the slanted bottom is perfect for fun and splashing-games.
The waterpark can also offer a relaxing hour for those visiting alone with a good book, ready to recharge for the summer and all it entails. It is the perfect opportunity for a cooling swim when the sun is burning.
Water slide for the biggest water-lovers
The surf hill water slide has four lanes and its own impact pool, making it an attractive slide to try for those who love water parks. Bring the kids and friends and try all the different slides you can find! there are slides enough for hours of entertainment in the great water park.
The Aqua Park is open for all – both those camping and those only wishing to visit the park.
Read more about Hals Strand Camping's Aqua Park with the surf hill waterslide...
Also read about Hals Strand Camping