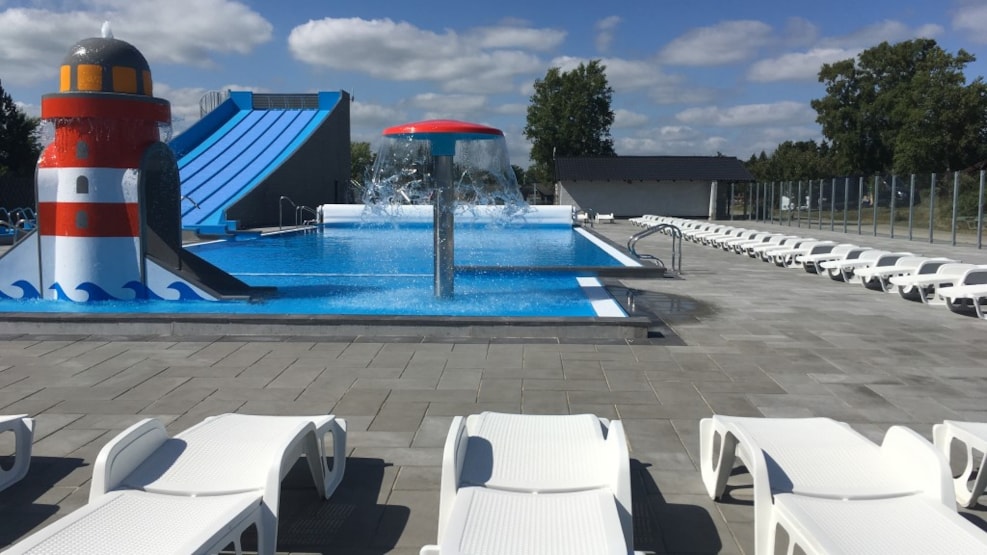 Hals Beach Camping
Experience the place that has everything a wonderful holiday need! Magnificent water park, huge playground with bouncy castles, mini golf, pub, barbecue and a restaurant - all located by a beautiful white beach
The campsite, which is located near Hals town, is a generous gem of the joys of camping life. A beautiful place with a newly opened outdoor Aqua Park with 26 ° C bathing water, 3 pools, surf hill slide, bubble zone, children's pool and a waterfall. In addition, an associated sun terrace with sun loungers, which invites to total relaxation with a cold drink or an ice cream from the Ice Bar. When hunger strikes, you can choose food from Bake-Off, the Grill & Ice cream Bar or enjoy a nice dinner in the Restaurant.
Camping for Everyone
The site offers activities and unforgettable experiences for the whole family. For the little ones, the large playground is a hit and the many bouncy castles are popular for all ages. When the little ones pet the goats, the older children can grab a game of mini golf on the Adventure Mini Golf Course, and together before bed they can watch their favorite TV series on their mobile phones - thanks to the lightning-fast WiFi.
Mobile home, Vacation Home, Cabin, Camper or Tent
The opportunities are many if you want to stay at Hals Beach Camping. On site you can rent mobile homes, vacation homes and cabins, and there is of course room for your own camper or tent.
Freedom by the Sea – Award nominated Beach
Hals Beach Camping really have everything, for a great vacation. The site is located next to Hals beach, which has been nominated several times as North Jutland's best and most child-friendly beach. With its fine, white sand and shallow water a good distance out to sea, it is particularly suitable for bathing with children.
Hals Town
Close by you will find Hals town, with plenty of shopping opportunities and lovely specialty shops. The town has a cozy harbor environment with lots to see and throughout the summer the town holds a market with stands through all the streets, music and festivities. At Hals Torv you can see the giant whale jaw that is the landmark of Hals town - dare you measure how small people are in the mouth of a whale ..?
Read more about Hals Beach Camping…