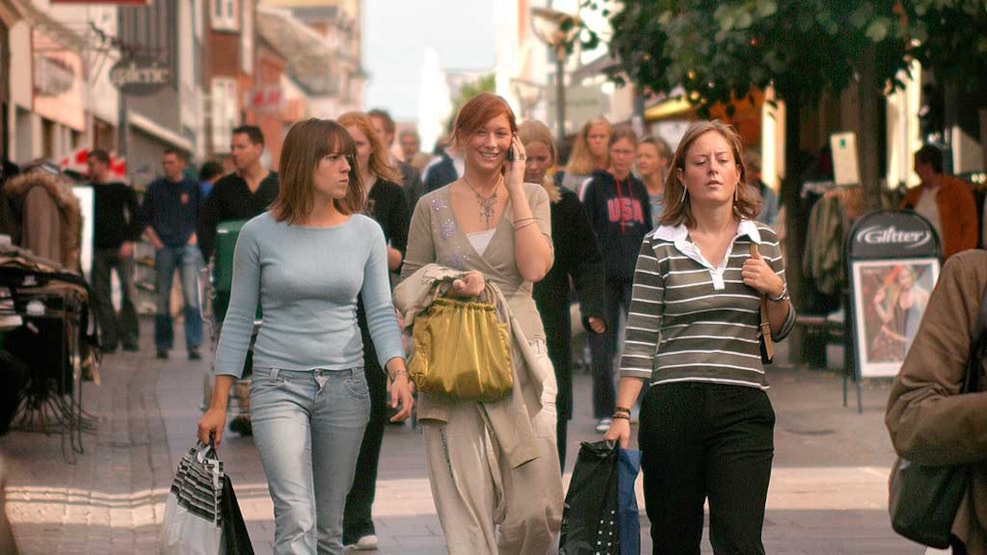 Algade in Aalborg
The shopping street Algade is one of the oldest streets in Aalborg and its history can be traced back to the 1000s. Here, you will also find the lift for the underground, Franciscan Monastery Museum.
Algade is one of Aalborgs longest shopping streets with various specialty shops and entrance to the mall Salling. In Salling you can access Salling Rooftop, where you can find a fantastic panorama view of the whole city and port, and you can try to nervewrecking skywalk.
A Historic City
Aalborg has gone through numerous transition phases. The city has existed for more than 1000 years and a lot has happened since the Vikings settled down in Algade. Traces from the past has helped to uncover, what life was like in Aalborg, what the people's homes looked like, and how they occupied themselves. You can gain insight in the history by visiting the underground museum, The Franciscan Monastery Museum, and its entrance is right next to Salling. You simply need to use the elevator, and you'll end up 3 meters underground, where the museum is. 
Algade Is One of the Oldest Streets in Aalborg
The street appeared on a natural tongue of chalk, which rose above the water level of the Limfjord. The stretch closest to the department store Salling is the oldest part. Findings indicate that Algade already was developed to its current extent by the 1100s. In the oldest part of the street, you can also find Budolfi Kirke, which was built in the 1300s. In the opposite end of Algade you can find the cozy Nørregade, which recently went through a renovation.
In the 1900s, it was primarily workmen and their families who resided in Algade. Typically, houses' lifespan does not exceed that of the city's structure, so, even though some of the houses date back to the renaissance, none of them are as old as the street itself. Only Budolfi Cathedral, built in the 1300s, can compare to Algade's great age.
Hjelmerstald
A smaller side street, Hjelmerstald, which is one of Aalborg's oldest and coziest streets, made of cobblestones and small charming houses, can be found next to Algade. The street was made in the 1600s and most of the small houses are 200-300 years old. The street is definitely worth a visit.