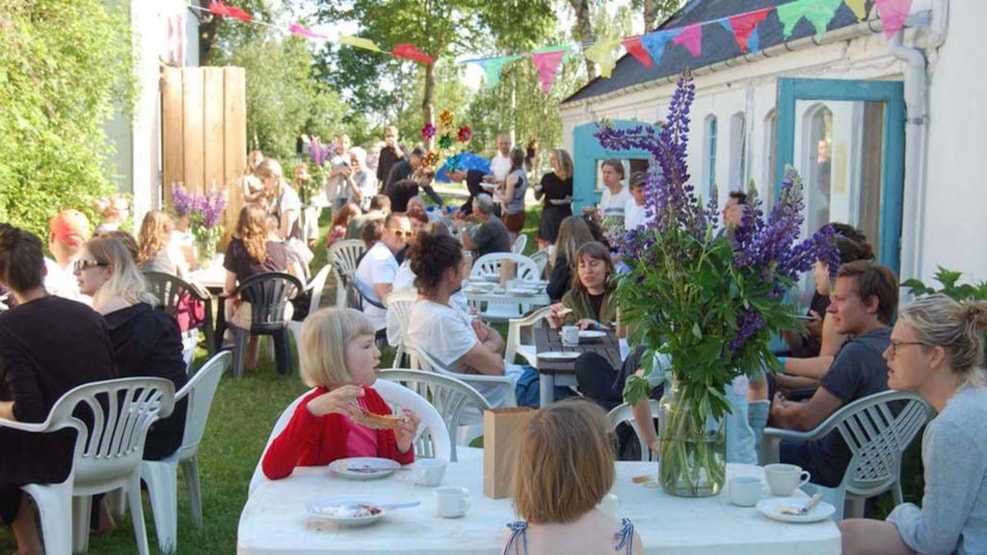 Aasen Theatre
Aasen Theatre and Institute
Aasen is a theatre, an institute and a place where residential training and course activities can be held. The setting is a converted farmhouse with rustic rooms which are ready for use. Aasen has a dance hall with timber flooring, a dining hall in a converted stable, an auditorium with a small stage, living room, and offices. The living quarters can accommodate up to 35 guests at a time and there is also an outdoor area suitable for camping in the summer season.
Aasen is located in beautiful surroundings, rolling hills, contrasting colours, fresh air, quietness and tranquillity. Aasen is in the "Jyske Aas", hilly countryside traversed by streams, with scattered groves, stretches of meadow land, bogs and moors.
Aasen Theatre
Aasen Theatre offers theatre training and education and workshops of varying duration. Courses can be customised according to your needs and theatre camps can also be arranged.
The Danish Institute for Popular Theatre
Since the establishment of the Danish Institute for Popular Theatre in 1987, Aasen has become a centre for theatre work and a magnet for creative people from Scandinavia and USA. The purpose of the institute is to work towards the creation of a new popular art and to counteract art as passive consumption.
The Prize of Hope established by Lars Olsen and Birthe Rosenfeldt in 1989 at Aasen Theatre. The Prize of Hope will be given to a person or a theatre who has worked for human hope; daring, loving, vulgar, serious, poetic...with sparkling energy against habitual thinking, which is the gravest threat to our culture: For a world where people use their own eyes, ears and voices. In 2008 Dell'Arte International, California was invited to be a partner in the Prize of Hope which awards the prize in USA every other year.
Who can use and benefit from Aasen?
Individuals as well as groups who want to work intensively on a study or work project
Stage people, dancers, musicians and artists can rent Aasen for rehearsals, productions and workshops
People who want to conduct courses, seminars etc
Artists and other people who want peace and quiet for writing, singing, thinking, meditation or just to recharge mentally
Exchange programs between Denmark and other countries
Residencies