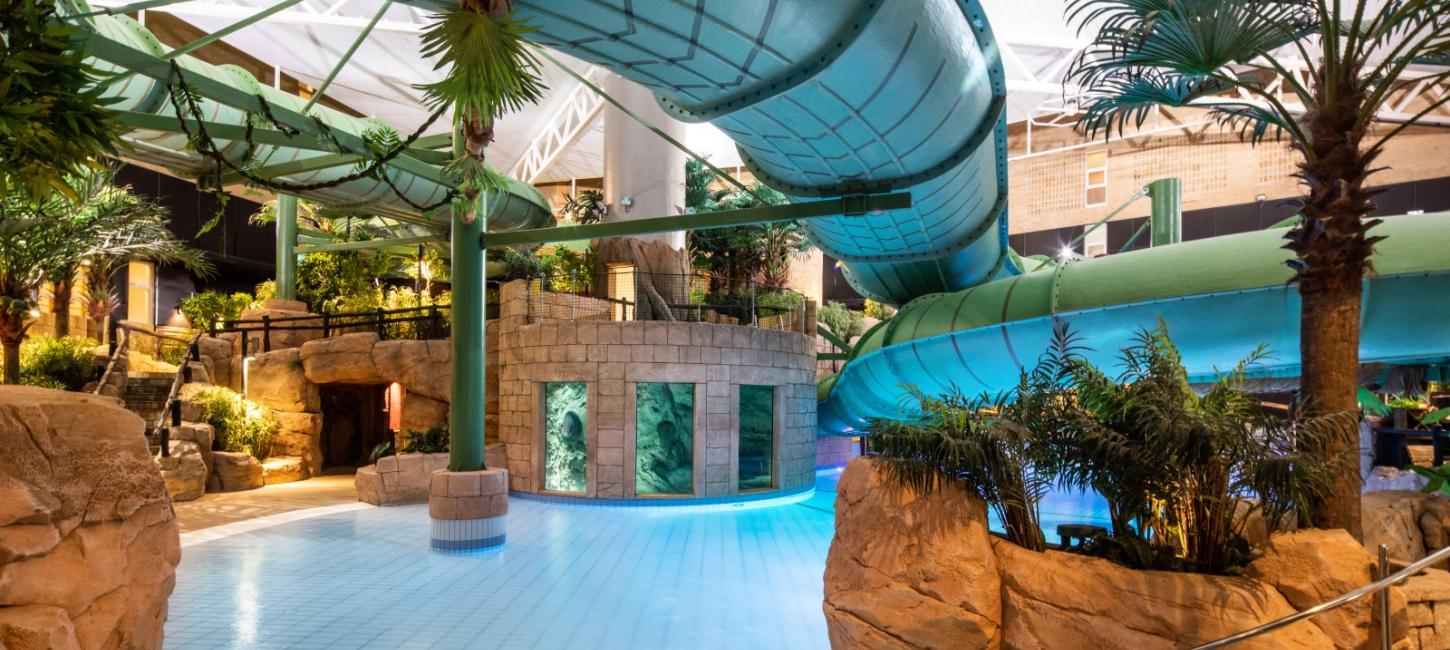 Experience a water park and spa vacation in North Jutland
Here, you will find plenty of great tips for fantastic water parks and luxurious spa facilities in Northern Jutland.
If you ask the children whether they want to go on a water park vacation, the answer is probably a resounding yes. And if you ask your partner or friend if they want to join you for a luxurious spa retreat, the response is likely to be quite clear as well. So why not indulge in a delightful water experience at one of the lovely water parks or spa resorts in the region?
We have gathered a wide range of delightful suggestions for you and your companions. However, keep in mind that one option doesn't necessarily exclude the other. Some places offer a combined "water park experience" and "spa experience" – although you should be aware that spa facilities may have age restrictions for children and teenagers.
Water parks in North Jutland
The Reef - Scandic The Reef in Frederikshavn is a gigantic indoor water park with lots of activities and fun for the whole family. Here, you'll find palm trees, rocks, and waves - a true Caribbean paradise where you can explore the rocky mountain or take shelter in the caves when the tropical storm rages and roars. At The Reef, there's a wave pool with 30-degree warm water, a children's pool, a diving pool, an outdoor pool, the wildest water slides, a cozy Caribbean restaurant - and much more.
Gigantium Water & Wellness - Just a few kilometers outside Aalborg city center, you'll find Gigantium, a large community center that includes a spacious swimming pool area with water slides, a warm water pool, and a play pool. Additionally, there is a luxurious spa section where adults can enjoy various sauna types, steam baths, hot tubs, and a cold water pool.
Skansen Bath & Wellness - Less than two kilometers from Aalborg city center, on the Nørresundby side, you'll find Skansen Bath & Wellness. Here, there is a huge children's area with warm pools, water slides, a climbing wall, and a large play area. The swimming pool also offers a 50-meter pool and a spa section with a warm water pool, indoor and outdoor saunas, steam baths, and sauna rituals (saunagus).
Skagen Strand Water Park - If the whole family wants to have a great time together, the water park at Skagen Strand is an excellent option. The water park is well-organized, and children can safely enjoy themselves in the dark water slide or the "bubble cave" with water cannons. Adults can also relax and have fun with saunas, steam baths, and an infrared sauna – not to mention the large windows facing the beautiful natural area in Skagen, pure therapy for the soul!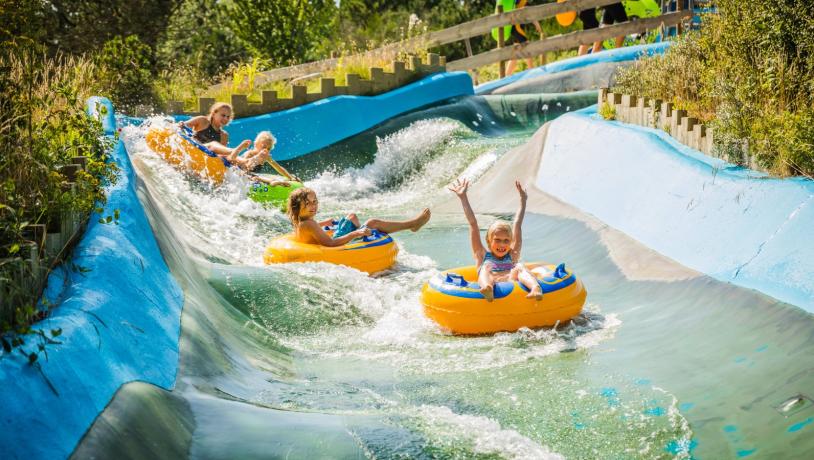 Photo:Fårup Sommerland
Aquaparken, Fårup - The aquapark in Fårup Sommerland is closed during the winter, but if you plan a visit as summer approaches, Fårup's water park is an excellent choice. The water park is, in fact, Denmark's largest outdoor water park, featuring a wave pool, play areas, and the wildest water slides you can imagine.
Hals Strand Camping Aquapark - This aquapark is also closed during the winter season, but as summer approaches, water enthusiasts of all ages are welcome. The small water park located at the campsite offers three heated pools, plenty of opportunities for water play for children, a sun terrace with sun loungers, and a fun "surf-hill" water slide.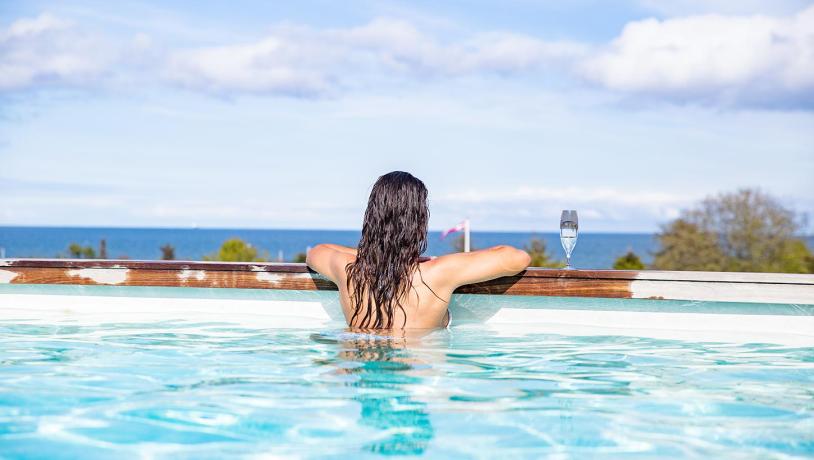 Photo:Hotel Viking Aqua Spa & Wellness
Hotel Viking - Aqua Spa & Wellness - At Hotel Viking in Sæby, you'll find the award-winning Aqua Spa & Wellness, offering a wealth of fantastic spa experiences. Here, you can enjoy a large heated pool with bubble zones, massage jets, and a "mushroom" feature. Additionally, there are various spa experiences such as saunas, steam baths, indoor and outdoor hot tubs, a saltwater pool (with a view of the Kattegat sea), and not to forget the professional clinic "ViWell," which offers a wide range of massage and beauty treatments.
Ruths Wellness & Velvære - At the very top of North Jutland, you'll find the 100-year-old and legendary Ruths Hotel. The hotel houses a spa area with everything your heart desires, including a sauna, steam bath, fitness room, therapy pool, and aromatherapy bath. Moreover, the skilled treatment team offers a wide selection of beauty and wellness treatments.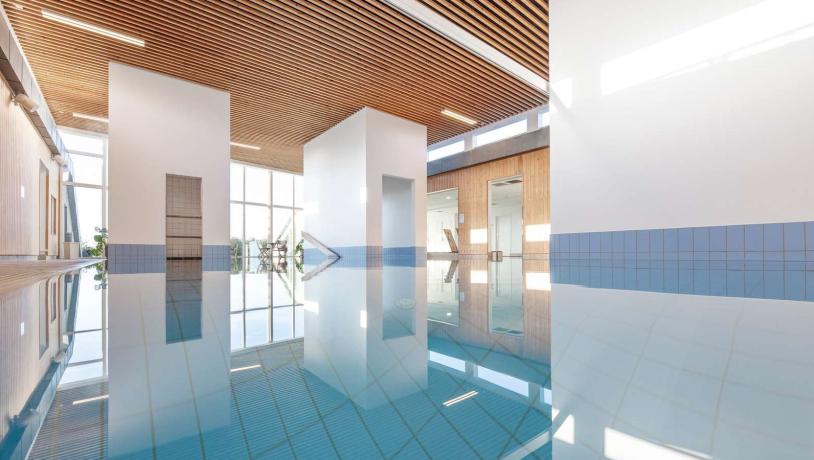 Photo:Kjetil Løite
Læsø Kur - Læsø Kur is housed in a converted old church, where Læsø salt plays a significant role in the spa's baths and treatments. Indoor and outdoor spas, along with various steam baths and pools, form the core of Læsø Kur. Whether you desire algae treatments, facials, beard treatments, foot treatments, vacuum therapy, aromatherapy, massages, or anything else, you have come to the right place.
Den Syvende Himmel, Hotel Herman Bang - In the charming town of Frederikshavn, at Hotel Herman Bang, you can indulge in wellness experiences as if you were in "seventh heaven." Here, you can enjoy revitalizing hot tubs, hot stone massages, hair salon services, and other treatments - undoubtedly pure balm for the body and soul.