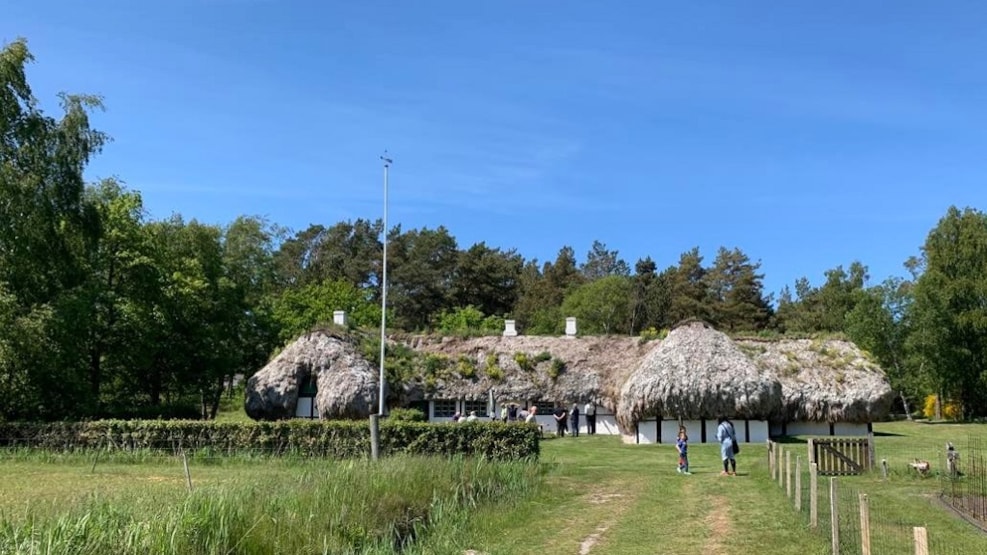 Hiking route Læsø - Tanghusruten Gl. Østerby, about 4 - 8 km
Læsø's seaweed roof, together with the saltworks, is the core of Læsø's cultural heritage and included on the tentative list for UNESCO's world heritage. Thanks to foundation funds, the seaweed roofs have now been preserved for posterity, and the unique houses can be experienced on a beautiful walking route on Læsø - the seaweed house route Gl. Østerby, which in a few hours takes you around a large part of the beautiful seaweed houses on Læsø.
There can be many purposes to hiking. Mental hygiene, exercise or simply enjoying moving in beautiful surroundings.
Læsø is a mecca for the pedestrians and exercise-minded, and then we just have an extra gear, because on Læsø you can experience things you can not see anywhere else on earth!
Læsø's unique seaweed roof is a cultural heritage created due to the saltworks, which cleared the island of trees and created a long period of poverty, where you had to do good with what you had on hand. This meant that they built with stranded goods such as timber and they used land-driven eelgrass as roofing material. In the poorest areas, there were up to 2 meters between the rafters, while the more affluent could secure the roof construction by 120 cm. If you got money, it might be an extension with denser barriers. On the roof came eelgrass. The women ruled Læsø at that time, because the men went to sea, and only came home every now and then. And it was the women who developed the technique of plowing a roof with eelgrass. The long ropes of the dried eelgrass were turned into washers and the roofs were covered with thick layers of eelgrass, picked up on the beach, dried and driven home on horse-drawn carriages. Closing a roof was a societal task in which several dozen people participated
That is not the case today. Nowadays, the technique has been revived thanks to passionate people like Henning Johansen, Læsø's roofer and Læsø's roommate, as it is called. And Læsø's remaining 33 seaweed roofs are underway with a gentle restoration, made possible by grants from a number of foundations and Læsø Municipality.
The owners of the seaweed houses themselves have to pay 10 percent of the fee, but it also runs up quickly when there is between 50 and 100 tonnes of seaweed on the roof.
The seaweed comes from the area around Bogø and Læsø, where it is harvested and dried, pressed into round bales of about 250 kilos and transported to Læsø. Sometimes with a museum ship from Marstal, other times with a haulier.
There are seaweed houses in several places on Læsø, but especially around Gl. Østerby and Bangsbo are many, which have now been restored and can be seen.
You can make sure of this by yourself. A so-called seaweed house route has been made in two places. One in Bangsbo, and then this one in Gl. Østerby, where with a trip of a few hours you can see some fantastic constructions that tell the story of Læsø's cultural heritage. A seaweed roof can last for hundreds of years. At that time, both tile roofs and asbestos-cement were weathered ...
Tanghusruten in Gl. Østerby leads past both large farms and smaller houses with one thing in common: seaweed roofs that lie like a warm hat over the house, waterproof, noise-insulating, fireproof and temperature-regulating, so the house is cool in summer and warm in winter.