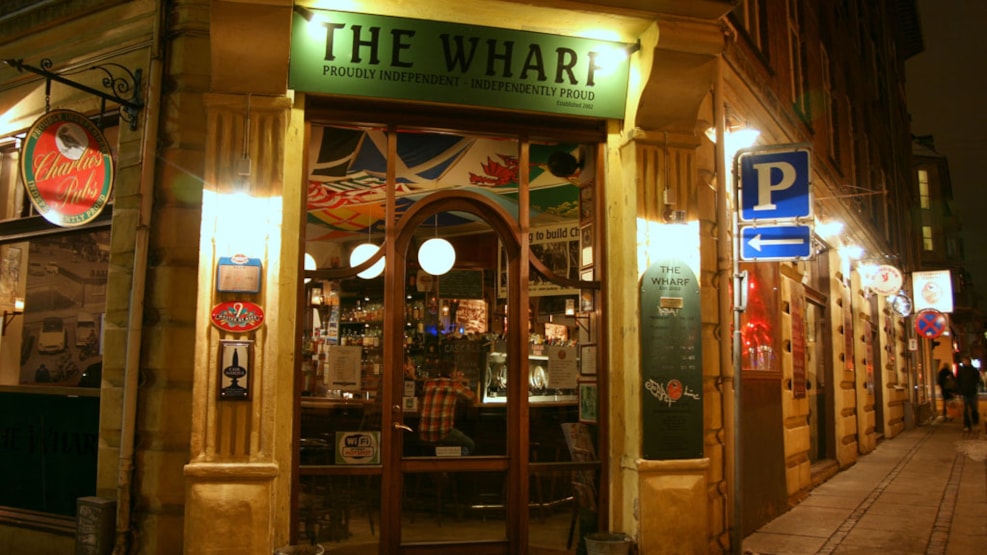 The Wharf
As a proof of the passion and careful handling of English quality beer, the Wharf has been awarded with the prestigious Cask Marque prize, which only two Pubs outside of England has been given.
As the only independent pub in Aalborg, the Wharf offers the widest selection of draught beer in Denmark. On top of this, they also serve a long list of bottled specialty beer! 
The wide range of beer
At the Wharf, you can enjoy the special British Cask Ales, served from their unique, specially designed coolers, which contain everything from Czech lagers, German weissbiers, English ciders/perry, Irish stouts from their 70 taps, as well as local, Danish breweries. Most of the beers in the selection are exclusively served at the Wharf!
Authentic pub atmosphere
In order for you to feel welcome, and enjoy your delicious beer in quiet surroundings, the Wharf plays evocative background music. If you want to smoke, you will find the smoking lounge in separate facilities at the end of the bar.
If you are into sports, the Wharf ensures that this request is accommodated. With their four giant screens, the Wharf shows sports from several TV stations. You are also welcome to take part in the classic Pub quiz every second Tuesday of the month. From Monday through Friday between 14 and 19.30, 'pub food' such as homemade burgers and sandwiches are served.
Aalborg Beerwalk
The Wharf is part of Aalborg Beerwalk – a great way to familiarise yourself with the best pubs in Aalborg. With this offer, you can taste 6 well-poured special beers from 9 different pubs in the centre of Aalborg.
The Wharf is open Monday through Saturday.
Read more about The Wharf in Aalborg on their Facebook page...