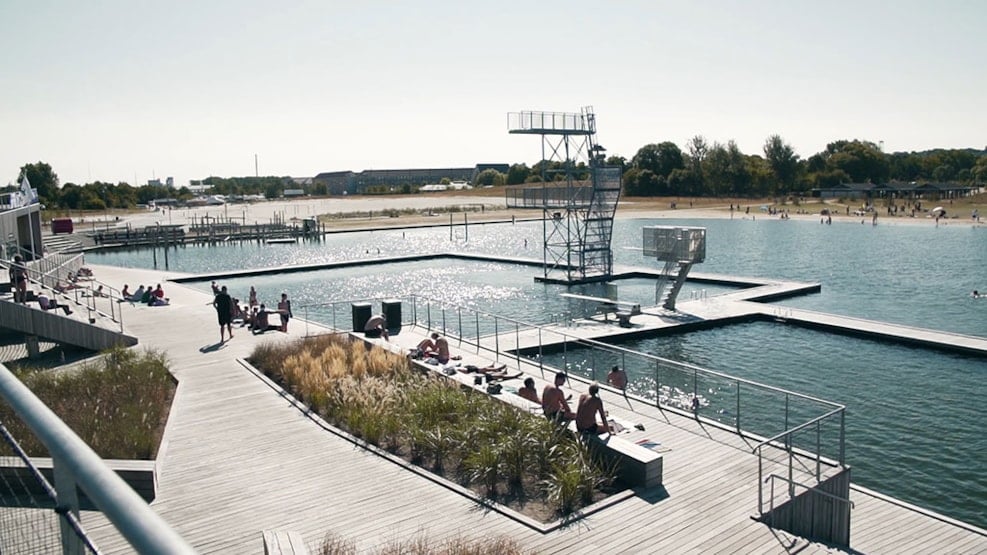 Vestre Fjordpark
Vestre Fjordpark, re-opened in 2017 and has now transformed into a 165.000 square metre water park and activity centre, which can offer something for everyone who enjoys nature and water sport.
Vestre Fjordpark is located in the western part of Aalborg but close to the city centre. Here you can both swim, sail in canoo or kayak, windsurf, winter bathe, or just enjoy the sun and the beautiful nature by the fjord.
The fjordpark has for 70 years been a wonderful gathering spot for all ages in Aalborg, especially on good summer days, it has been one of the most attractive places to enjoy the heat, and in 2019 it is nothing less than a summer paradise. There are exciting playground areas for children of all ages and top modern facilities everywhere.
Vestre Fjordpark is seperated into different areas called Stranden, Tangen, Kilen, Fladen, Krattet and Skoven.
Stranden and Tangen
Stranden (the beach) is a large bathing area with sand bottom, a 50 m basin and diving board basin, diving board tower, and climbing wall. You can enjoy the sun on the areas on the roofs or the grass areas (with several sections in cover).
The areal between the Fjord and the bathing area is called Tangen, and from here kayaks are launched. In the Fjord there is a floating bridge, from where the kayaks can also be launched, or you can swim from the Open Water-sections. 
Kilen and Fladen
Kilen is characterised by the open grass area and various opportunities for activity, e.g. throwing frisbees, parkour, street work-out, running on the pathways, foot- and handball, streetbasket and beachvolley. Children can bike on the child-friendly bikefield or run on the concrete hills. The calm area, Fladen, consists of a large grass area with a bonfire place, which is also useful for larger social arrangements.
Krattet and Skoven
Krattet is different from the other open areas, as it consists of narrow pathways and poles with nesting boxes for kestrels. The forest on the hill change into a bright forest of oak trees, which to the north is defined by flowery woods. 
There are covered tables and benches in the entrance area and various tables and benches around the whole area. You can also try the Tarzan-track or enjoy the view from the 15m tall sculptured tower, created by the artist Thomas FOS Poulsen.
Opening hours
Vestre Fjordpark is open all day and there is free entrance.
Read more about Vestre Fjordpark in Aalborg (in Danish)…
Travel sustainably with bus and train in North Jutland
Getting around North Jutland with public transport is effortless. Plan you trip with bus, train or 'Plustur' on rejseplanen.dk.