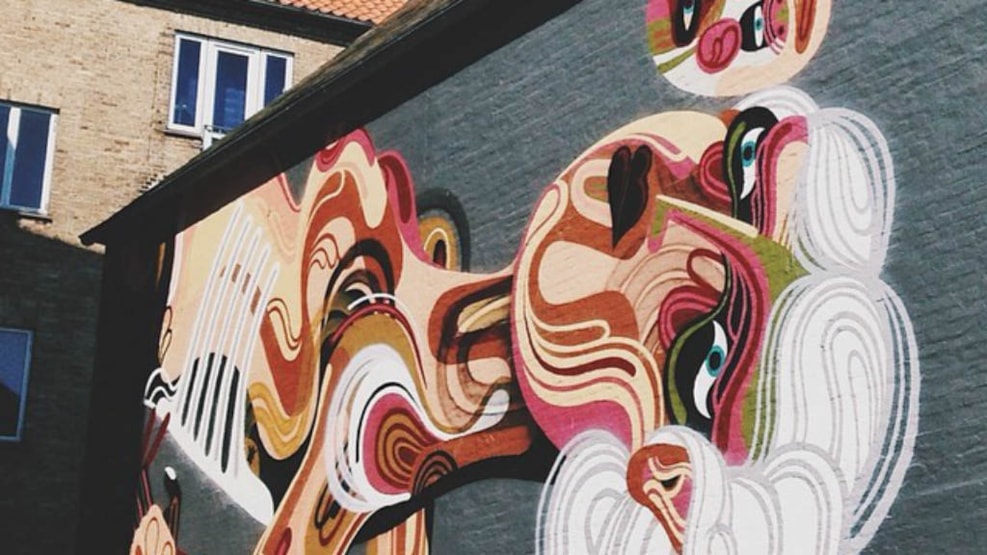 Street art - RekaONE - Tiendeladen 6
'Silver Skies' is the poetic name of this piece of art, which was made by the young, Australian artist James Reka. Like the rest of his work, this mural is  inspired by surrealism and the fantasy genre.
James Reka or RekaONE is originally from Melbourne, Australia, where he in narrow alleys and between trains perfected his now symbolic style, which has a cartoonist and illustrative edge to it with clear references to pop culture. Reka is a dedicated and productive artist, and who likes to create a world of his own in his paintings, filled with mystical creatures that communicate through form, color, motion and texture.
Richness in detail and acknowledgement
With the above mentioned starting point, Reka has developed a refined and almost manic degree of attention surrounding the technical aspect of his work, which has driven him to create increasingly more detailed works. His art lies somewhere between the humorous and the threatening, and thus a unique contrast between the two conflicting emotions is created. 
Reka has teld several soloshows in, amongst others, England, Australia, Italy, USA, and Denmark. His art has been included in the permanent collection at the National Gallery of Australia – a clear testimony to the quality of his art and to his standing as one of the best street artists in Australia - and the rest of the world. 
Read more about RekaONE…