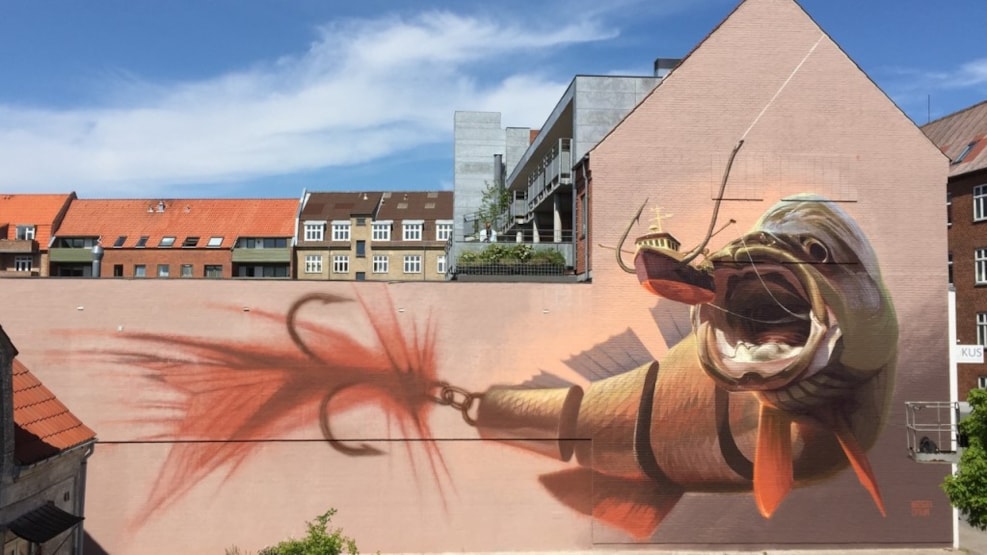 Street art "Out in the Open" - Wes21 and Onur - Dannebrogsgade 43
The interesting mural called "Big Catch" was painted by the two Swiss street art artists Wes21 and Onur. The work has a circular theme to it, which pulls the spectator in – who is actually catching whom?
With "Big Catch", the artists wish to touch upon themes like 'Who catches whom?' and 'Who benefits from whom?' The fish is caught by the fishing boat while being baited itself at the same time. Furthermore, the fish is also ready to eat the fishing boat.
Wes21's real name is Remo Liedhard, and he was born in 1989 in Biel, Switzerland. Onur was born in 1981 in Switzerland as well. He is a trained painter and muralist. He is known for painting with UV-sensitive painting.
The work of art by Wes21 and Onur is part of the Out in the Open project.
Read more about Wes 21 and Onur...