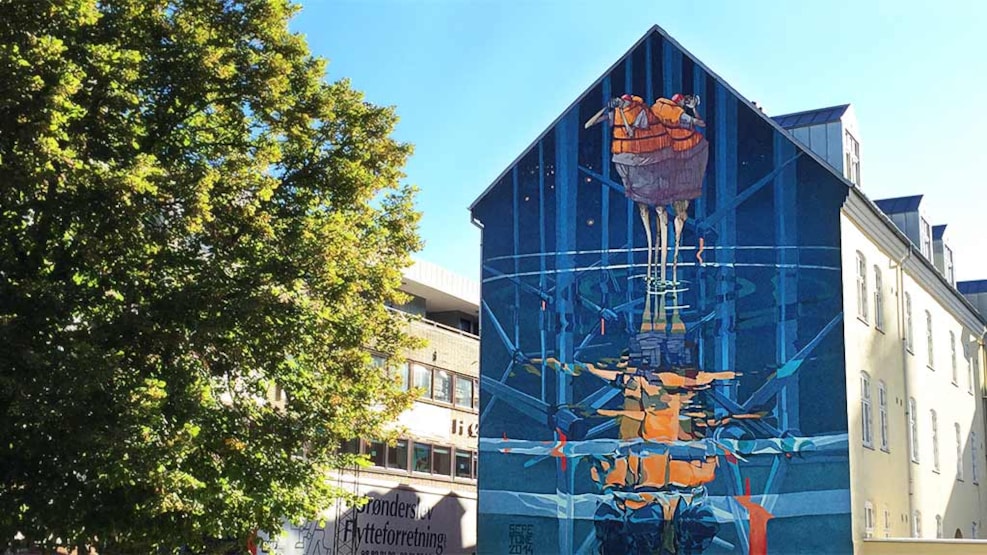 Street art "Out in the Open" - TONE & SEPE - Ladegaardsgade
The mural "Mayday Mayday" was created by Robert 'Tone' Proch and Michal 'SEPE' Wrega from Poland
Over the past couple of years, the two young Polish artists have been storming ahead, with exhibits all over the world. Michal 'SEPE' Wrega was born in Warsaw in 1982. He has been working with graffiti and street art since 1996. Robert 'Tone' Proch was born in 1986 and he now lives and works in Poznan in Poland. He is a painter, muralist and animator and he was educated at the Academy of Fine Arts in Poznan. 
"Mayday! Mayday!" depicts two people back to back, looking through binoculars while the water surrounding them rises. The mural comments on the global warming debate, as the two artists, during their research, discovered that Aalborg is a low-lying area.
The mural was made during Gallery Kirk's project called "Out in the Open".