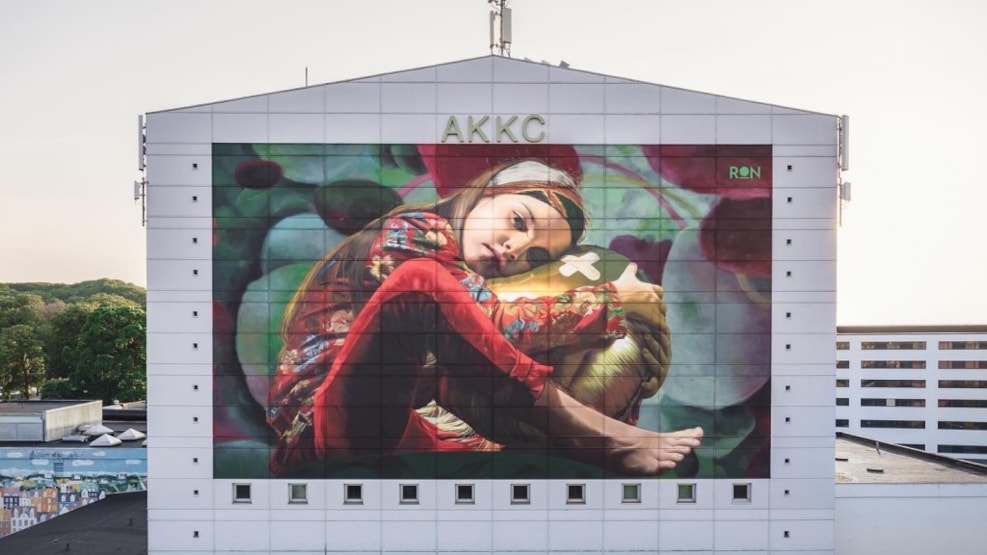 Street art "Out in the Open" - Martin Ron - Aalborg Kongres & Kultur Center
"Olivia and her Heart of Gold" is created by the Argentine world-renowned artist Martin Ron.
Martin Ron has created a 600 m2 artwork on the stage tower of the Aalborg Kongres og Kultur Center, encapsulating reflections on resilience and the power of love and hope in difficult times.
- In the center of the composition, Olivia, dressed in red, defiantly gazes at us. Her eyes radiate determination and courage as she holds onto a golden heart-shaped balloon. This heart, seemingly repaired from a previous puncture, remains inflated, symbolizing the ability to overcome adversity and all our emotional wounds. Furthermore, she inspires us to find strength in our vulnerability, to mend our damaged hearts, and to remain filled with love and hope, explained Martin Ron.