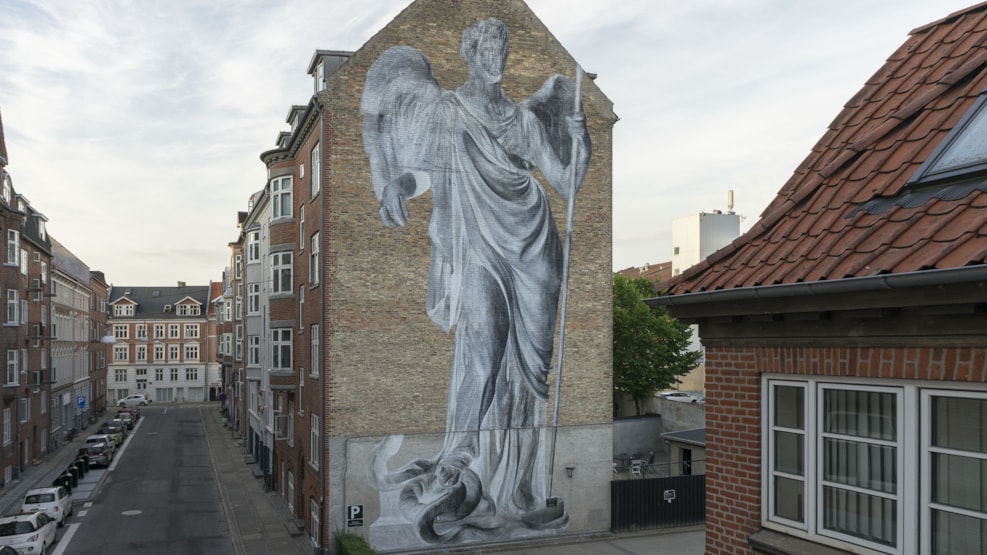 Street Art "Out in the Open" - Francisco Bosoletti - Holbergsgade 9
In Aalborg Vestby, Argentinian Francisco Bosoletti has completed a work in which a striking angel of peace emerges from the raw brick wall.
It is always a difficult process for the artists to work on a brick wall, but due to the great location and the beautiful raw wall, the artist wanted to work here, where the simplicity of the monochrome work would only be further emphasized by the raw background.


Born in 1988 in Armstrong, a small village in the Santa Fe province of Argentina, Francisco Bosoletti is known for his large wall paintings, where he poetically captures human elements and parts of nature in a pixelated expression, as if it were negatives from a movie. Here he mainly uses earth colors in his murals and goes deep into the feminine movements, characterized by gestures that are fragile, deep and full of grace.