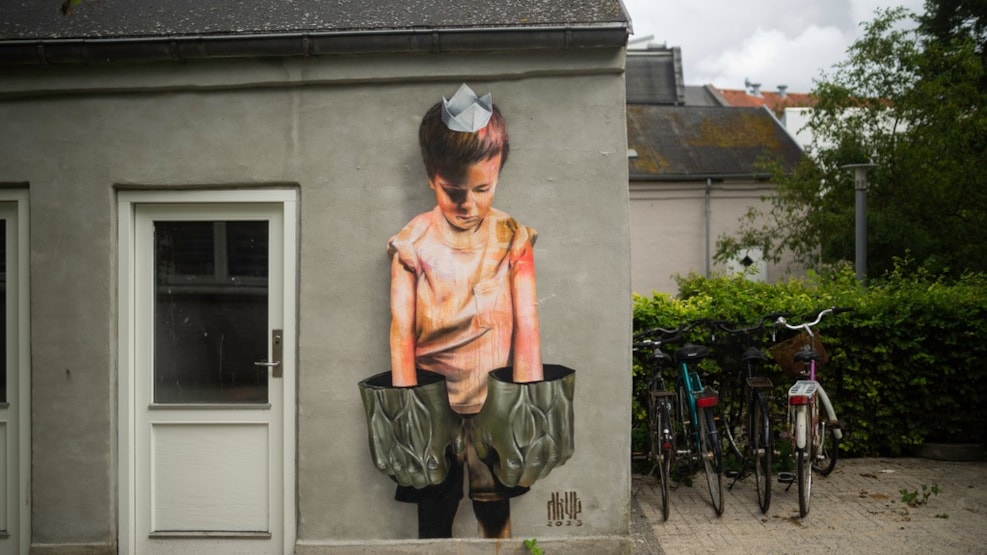 Street art "Out in the Open" - AKUT - Danmarksgade 8
The german AKUT has created a new mural in Aalborg called "Fallen King".
The world-renowned AKUT has been a significant part of the international street art scene for the past 10 years. He is known, among other things, as one half of the duo HERAKUT.
AKUT hails from Germany, where he studied visual communication/graphic design at Bauhaus University in Weimar. In the 1990s, AKUT was among the first to create graffiti in his hometown. Instead of focusing on tagging and letters, he directed his works toward photorealism.
Regarding his Aalborg artwork, AKUT states the following:
"Fallen King" is the title of the small mural I painted in addition to my current solo exhibition at the galleries backyard in Aalborg, Denmark. The boy is a fragile, tiny person with an eager bright mind and giant ambitions. Emulating his role models, he wants to copy their superpower. Unfortunately, it is way too heavy for him to make proper use out of it. Thus the self-crowned king has to either be patient and give himself more time to grow or he should hook up with the gang of kids in his environment. For the latter, he would be a promising addition, because the KIDS ARE(N'T) ALL RIGHT and could use any help.