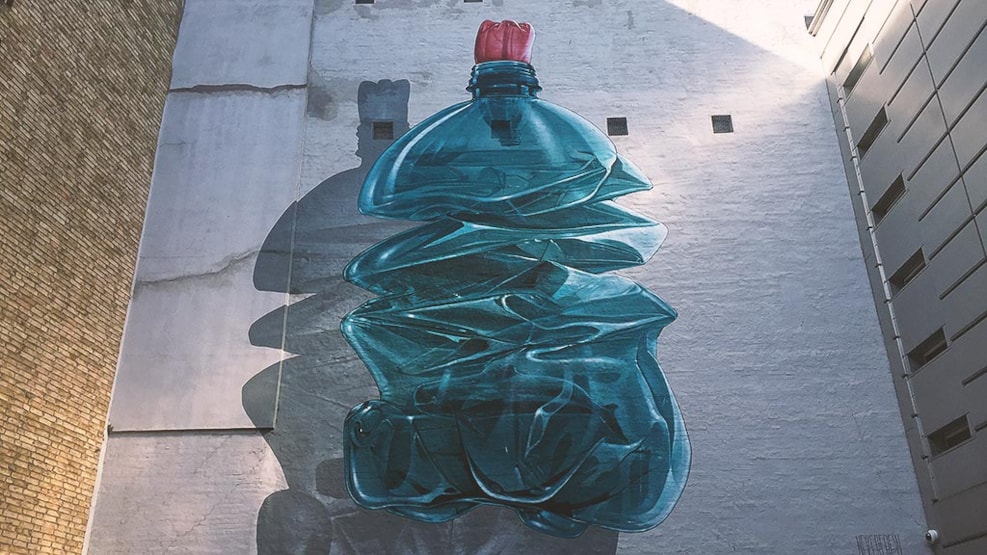 Street art - Nevercrew - Nytorv 5
Hidden in the courtyard between Nytorv and Slotspladsen, you will find this mural "Exhaustive Machine no. 2" painted by the Swiss duo NEVERCREW composed of Christian Rebecchi and Pablo Togni.
NEVERCREW consists of the two Swiss artists Christian Rebecchi and Pablo Togni, who have been working together since 1996. They have enriched Aalborg with two murals. The second mural you can experience in the residential area Løvvangen in Nørresundby. The duo often discovers and challenge the delicate relationship between mankind and nature and on this exact mural located in the centre of Aalborg the mural depicts a compressed plastic bottle. Inside the plastic bottle, fish are swimming around, giving one reason to believe that the mural was meant to spark a debate around pollution in seas.
The mural was painted during WE AArt 2016.
Read more about NEVERCREW...