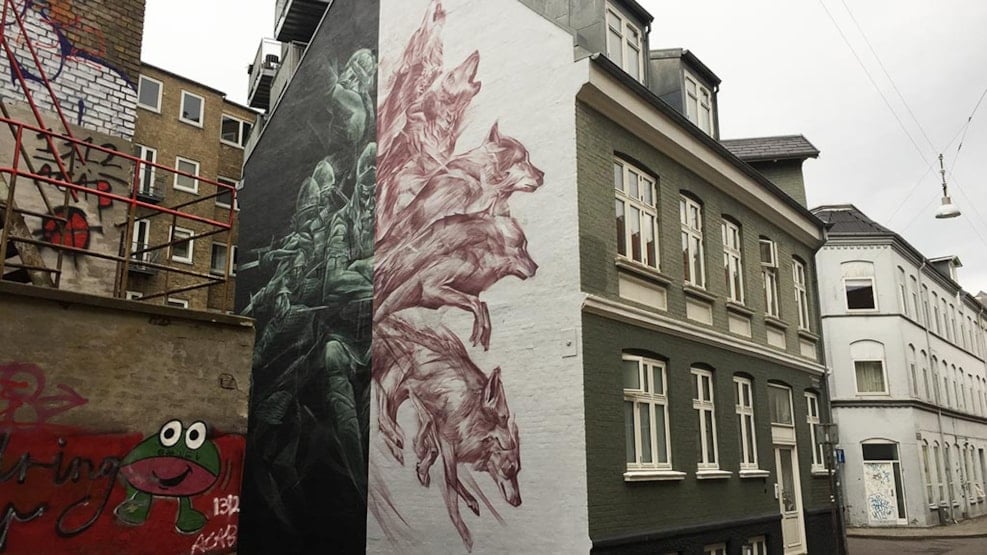 Street art - Li-Hill - Kattesundet
See the mural "Holgar's Pack" by Li-Hill in Aalborg
Li-Hill is a Canadian artist currently based out of Brooklyn. Li-Hill employs painting, illustration, stenciling and sculptural elements within his works, and he has experience with both graffiti and murals as well as a degree in Fine Arts. Li-Hill often explores themes ranging from industrialization, scientific breakthrough, man versus nature and the complexities of the rapid development in our modern age. Li-Hill has showed in e.g. Australia, China, Mexico and Thailand and then of course in Aalborg.
In "Holgar's Pack", Li-Hill incorporates elements from Danish culture and history; to the right, it depicts Holger Danske, a Danish national hero, and to the right, a pack of wolves.
The mural was painted during WE AArt 2016.
Read more about Li-Hill