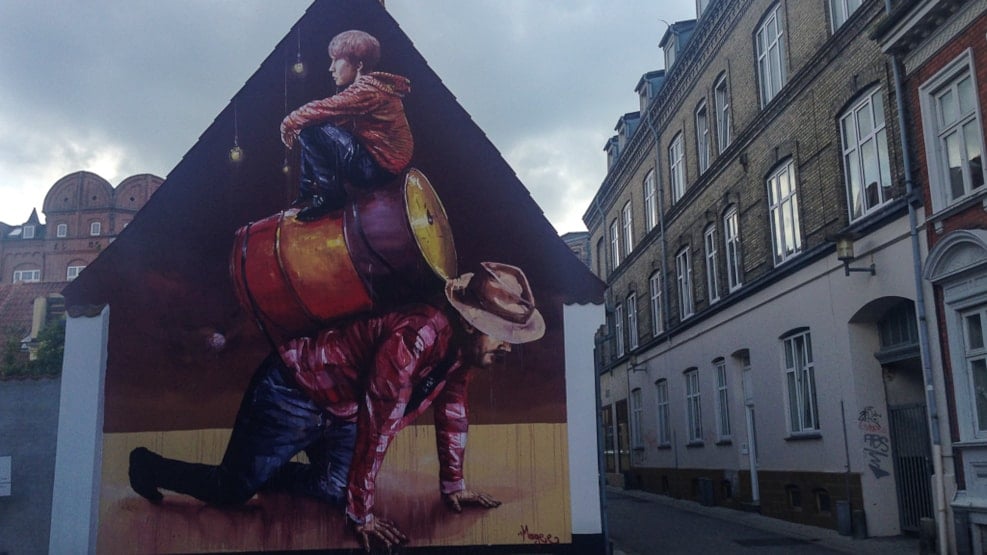 Street art - Fintan Magee - Sankt Hans Gade 4
The famous Australian street art artist Fintan Magee beautifies Aalborg with his beautifully colorful mural "The Pyramid". But behind the colorful façade, you might discover some rather bleak themes.
Fintan Magee grew up in a neighborhood with lots of graffiti, and he quickly became one of the 'painters', decorating with his own name. From here his interest grew, and it turned out that he very quickly became a talented artist.
Today, Fintan Magee has his own unique style, which is characterized by a mix of surreal, humorous, and sometimes alarming motives. The general themes of his painting are rather tragic and span from war and suffering to consumerism and violence. He mixes these themes with childish elements and a sense of naïve sensitivity.
The mural was painted during WE AArt 2014.
See more of Fintan Magee's paintings…