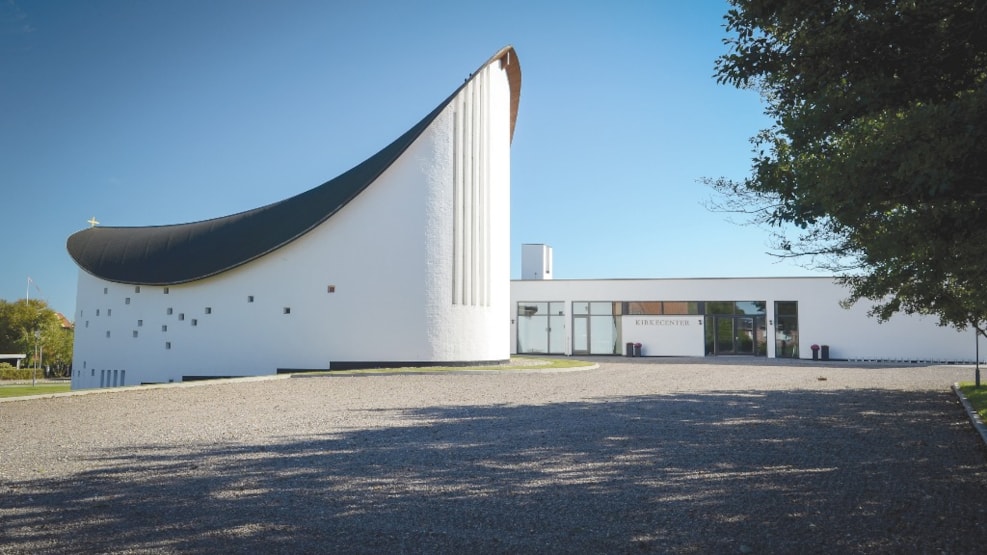 Strandby Kirke
Religion has always been important in Strandby, and there are two churches in the town – Strandby Church and the Methodist Church.

As in many other small fishing towns in Denmark, the Inner Mission has dominated in Strandby.
The Inner Mission is an evangelic wing of the church in Denmark and until the end of the 20th century it had a strict philosophy of life. Entertainment like dance and playing card were considered sinful. It was believed that life in heaven would be better than life on earth. Many fishermen were poor and their conditions of life were tough. Therefore, this philosophy of life was appealing to them.
Methodism came to town in 1878, and even though the congregation had a rough start, it grew to be one of the largest Methodist communities in Denmark.
The Inner Mission and the Methodist community exist side by side in Strandby today.


Strandby Church
Strandby Church is a part of the Danish Lutheran State Church. It was finished in 1966. Until then the citizens of Strandby had to go to Elling a few kilometres away if they wanted to go to church. For several years, the community had wished for their own church and in the beginning of the 1960s, enough donations were gathered for the wish to come true. A large part of the donations came from two sisters, Johanne and Grethe from Nørgaard, who both had been single all their life and had lived very economically. By their deaths, they left all their savings for the church project.
In Strandby many believe the church to have the shape of fishing cutter with sail (the roof) and wheelhouse (the church tower) even though this was not the intention according to the architect, Jacob Blegvad. However, the inspiration came from medieval church buildings. Moreover, the church resembles the chapel in Ronchamp, designed by the French architect Le Corbusier.


The Methodist Church

The first Methodist church in Strandby opened in 1924 on "Havnevej" in a building, which formerly had been a meetinghouse for the temperance movement. The congregation grew quickly and needed more space. In 1960-1961, the current church was built, just across the street from the former. The old church building has since been used as a shoe shop and a fast food place and today it is a private home. However, if you take a through look you can still see some of the characteristics of the old church.

The architecture of the new church was different from traditional church architecture at the time and people debated a lot about the style. Like Strandby Church, the Methodist Church was funded by private donations.

Before the church was built, a school was located at the site and in the garden of the church you can still find a mulberry tree, which the first qualified teacher at the school planted.