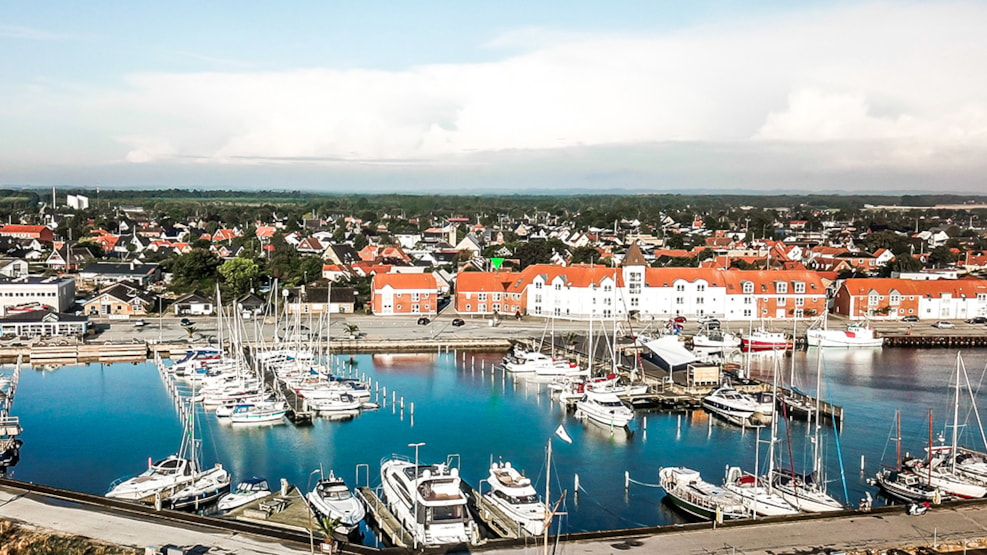 Strandby Havn
The harbour is the lifeblood of Strandby. The big fishing cutters moor alongside the quay, the small boats sail around, and there is a marina. It has room for 140 guests and tourists are very welcome.

For long, people in Strandby have been fishing the sea. The first attempt to establish a harbour was in 1879. It was a rough start – money needed to be raised and the fishermen had to do the hard work themselves. One day, it was storming and the weather was so bad that all progress with the harbour was ruined. In 1885, the fishing industry had a rising and the demand for a harbour was higher than ever. Once again, the fishermen worked together and in 1896, the harbour was finished. Since then, the harbour has been expanded several times and today it is one of the most important fishing harbours in Denmark.

Many activities takes place at the harbour. You can buy fresh fish and shellfish from the fishing cutters, from the fishing houses, or at the auction, which takes place every day at 7.00 am. There are restaurants, boat rental and shops with fishing tackles, which you for instance can use from the long piers.

Moreover, there are two memorial stones at the harbour. One is a memorial of the founders of the harbour. The other one is a memorial of the fishermen, who died because of striking German mines in the sea during WWII. During WWII, the Germans laid out mines in Danish waters. Therefore, there was a minefield with 117 mines outside Strandby. Around every tenth of the cutters in Strandby stroke a mine during this period. The fishermen could not stop to sail the sea, partly because of the fishing, and partly because several locals in Strandby helped the allied with transportation of weapon across the North Sea and sailing Jews to Sweden.
For 25 years after the end of WWII, it was still illegal to fish in parts of the Aalbæk Bay due to the risk of striking a mine, and occasionally old mines are still found in Kattegat.
The two memorial stones have been moved several times, but now both of them are located near "Den Blå Café".