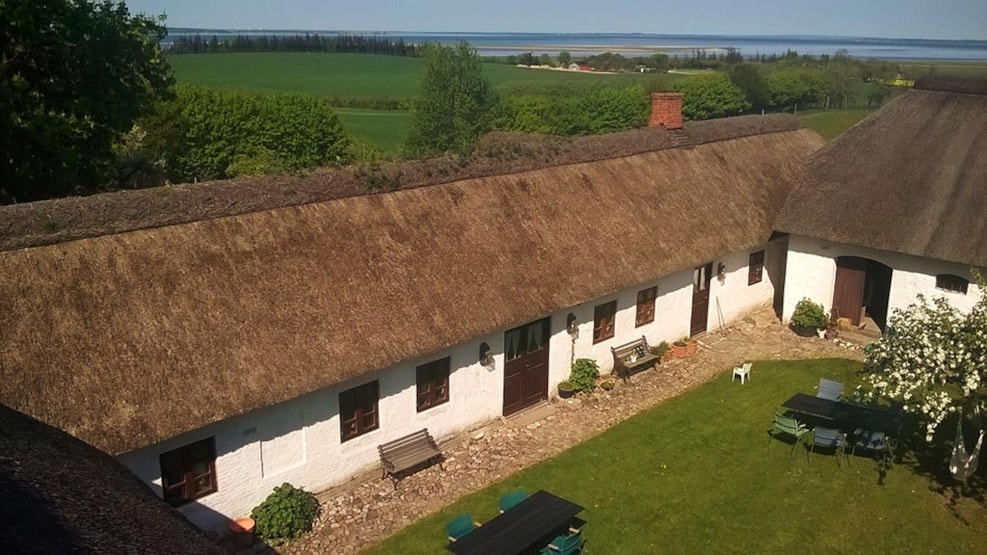 Springbakgaard Bed & Breakfast
Springbakgaard is a thatched dwelling dating back to 1777. The farm has panoramic views of Limfjorden from its elevated position on Barmer hill with islands to the north and Aalborg and Nibe to the east.

The 17 ha. of Springbakgaard are run organically and are home to red deer, rare breed sheep, free ranging chickens and Icelandic horses. The meandering brooks and woodland groves are home to a host of wild birds and other wildlife. 
Accommodation at Springbakgaard
In the west wing of the farm buildings, two environmentally friendly, country style apartments were built in 2010. Both are with kitchen, bathroom and can house 4 and 6 guests, respectively. Breakfast is also available for an extra charge. The food is, whenever possible, all organic. 
Springbakgaard is only 1½ km to a local grocery shop and bus stop in Barmer. There is 9 km to Nibe (a charming market town), 20 km to Løgstør (famous for its shell fish), and 30 km to the university campus of Aalborg with train routes, airport, shopping, theatres etc. 
Read more about Springbakgaard Bed & Breakfast...