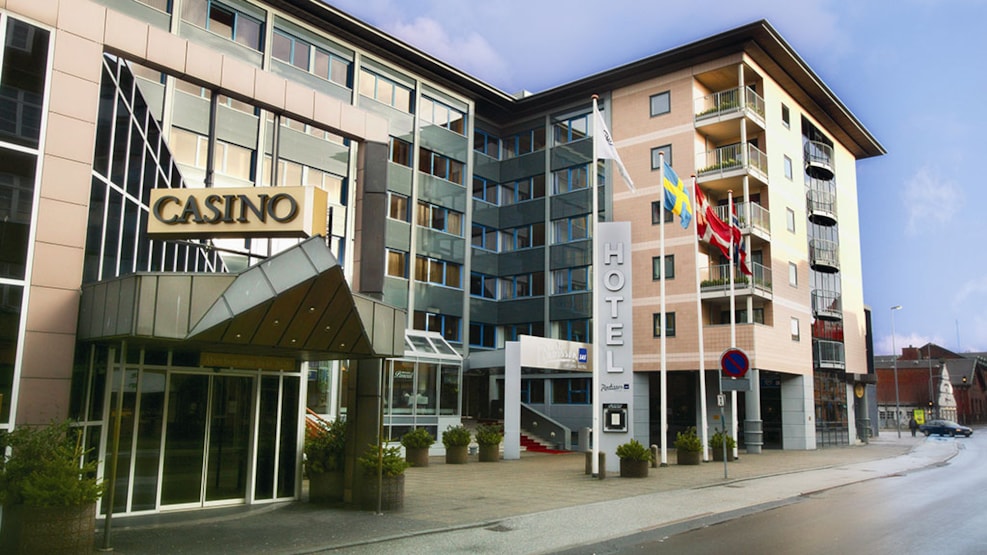 Radisson Blu Limfjord Hotel - Venue
Located in Aalborg's vibrant city centre is Radisson BLU Limfjord Hotel, which has a beautiful view of the Limfjord and direct access to Aalborg's new waterfront
Radisson BLU Limfjord Hotel is a cosy hotel located in the very centre of Aalborg, meaning it is within walking distance from Aalborg's many attractions, shops and restaurants. The hotel has its own restaurant, lounge and bar, as well as direct access to Casino Aalborg.
Conference and meeting facilities
Radisson BLU Limfjord Hotel offers a 5-star conference centre, consisting of 13 light meeting rooms with space for up to 200 participants. In the meeting rooms, you are granted access to free Wi-Fi, as well as the hotel's business centre.
Accommodation
Radisson BLU Limfjord Hotel has 188 comfortable and tasteful rooms, divided into four different categories. Majority of the rooms have a view of the beautiful Limfjord or Aalborg city, and they all have private bathrooms, radio/TV with news channels, Wi-Fi, mini bar, coffee and tea facilities and a blow dryer. In the hotel's business rooms and suites there is also Nespresso, air conditioning, bathrobes and slippers, the newspaper of the day as well as access to an iron and ironing board.
At Radisson BLU Limfjord Hotel you conference guests start their day with a breakfast buffet where they can enjoy a variety of delicacies from European as well as American cuisines. During weekdays the buffet is open from 6:30-12, and from 7:00-10:30 during the weekends.
Restaurant
Brasserie Pascal, a restaurant serving classic French dishes with a twist, is located right by Radisson BLU Limfjord Hotel. All the dishes are prepared using fresh and local product. The restaurant is open Monday-Saturday from 11-21:30. 
If you would like to enjoy a meal in your room, the hotel offers room service 12 hours a day.
Other facilities/possibilities
When the conference day is over, you can spend some time with the other conference participants while having a drink, beer or a glass of wine at the hotel's bar and lounge. It is also possible for you to visit Aalborg Casino, which is located right by the hotel.
If you would like to stretch your legs and move around a little, you are free to use the hotel's gym without charge, or you can go for a walk around the cosy streets of Aalborg.
Radisson BLU Limfjord Hotel has a parking lot with 100 parking spaces, and across from the hotel is a parking garage with an additional 200 parking spaces.
Sustainability at Radisson BLU Limfjord Hotel
In the Radisson Hotel Group there is a lot of focus on nature, and therefore they strive to maintain the valuable resources that exist in nature. This is also evident through their "Think Planet" concept. The hotels work to reduce CO2 emission, host green meetings, conserve and save water, minimise their garbage production as well as purchase food responsibly.
The hotel chain's hard work and efforts have, amongst other things, earned the hotel the Green Key label, as well as the Earth Check certification. This means that throughout their daily operations, the hotels have to meet a number of environmental requirements. Radisson BLU Limfjord Hotel in Aalborg works hard to meet these requirements every day. Read more about the Radisson Hotel Group's "Think Planet" concept here.