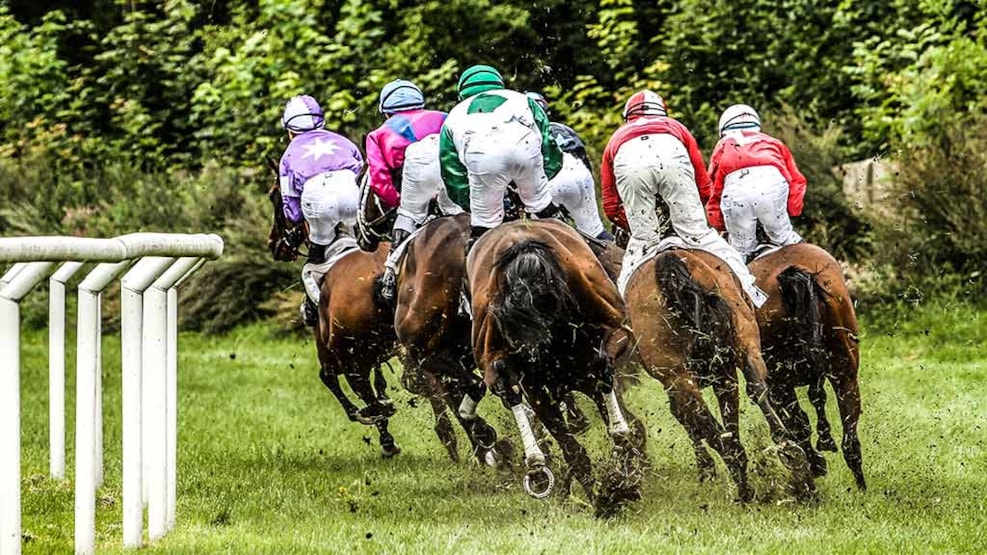 Racing Arena Aalborg Racetrack
Racing Arena Aalborg is more than a racecourse; it is the place for everyone interested in horseracing to enjoy trotting and flat racing. Additionally, it is possible to rent the lovely rooms, the café and the restaurant for special occasions.
The race track is more than just a track. It has a restaurant/Cafeteria/Kiosk, an information stand, TV showing all races, exchange office, a drive-in parking, an outdoor picnic area, and a playground for the children.
Go on a virtual tour around the field and see when the next race will be on the race calendar (in Danish).
Authentic mood and family friendly experiences
The race track dates back to 1954 and it is one of the few race tracks in Denmark with both a trotting track and a galloping track. Experience an authentic racecourse mood, when the fine horses rush past, accompanied by the speakers intense voice in the loud speakers. There were over 30 race days in 2018, and on the website you can get answers on questions regarding the bets on horses etc. Throughout the year, various events take place in the green inner circle of the track, which you can follow on social media.
The racing field also includes a lovely playground in western style, and from here you can watch the horses on the field on a daily basis. You can also go by the stables, where you can greet the sweet horses the whole year.
During the season, you can also experience pony trotting for children. The youth horse sports union Ikaros is located at the race track as well. This union is for young people between the age 7 and 16 and works with racehorses.
Package deals, restaurant and sportsbar
Get a unique experience with Racing Arena Aalborg's package deals, with focus on sport, excitement and delicious food. A host(ess) will make sure you get introduced to the sport with a tour to the stables and information about the rules of the game. 
In the café you can bet on horses and experience the authentic atmosphere and mood of racing arenas. For most of the races you can purchase a package deal, including dinner and seats with a panorama view. 
Great location
The race track is placed in the beautiful green and natural surroundings in the western part of Aalborg along with sports areas, the Marina Fjordpark, and allotment gardens. In this neighborhood you can also find Aalborg Defense and Garrison Museum, Springeren - Marine Experience Center, Aalborg Open air swimming, and a miniature golf track. Strandparken Camping and Aalborg Camping og Chalet island are within walking distance from the race track.


Read more about NKI Racing Arena Aalborg Racetrack...