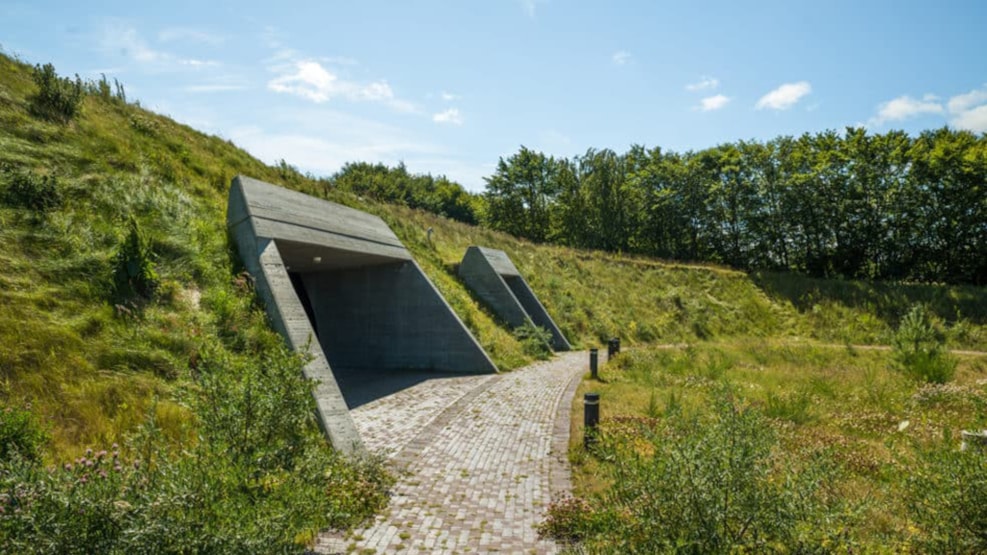 Porten til Jyske Ås (The Gateway to Jyske Ås)
The Gateway to Jyske Ås is a landscape architectonic piece of art that conveys the story of Jyske Ås. The monument is formed as a giant spiral made of earth and tile. There is a great view from the top of the monument, and inside the spiral is information about the unique nature, geology, cultural history and the many experiences awaiting in Jyske Ås.
Porten til Jyske Ås (the Gateway to Jyske Ås) is a monument as well as a centre of cultural history, which fundamental elements is made of the story of Jyske Ås, the creation of the ridge and the story of robbers and paupers, who used to live in the rough terrain of Jyske Ås.
The spiral shaped centre stages the experience of nature and the story of Jyske Ås' characteristic features geologically, geographically and culturally.
The spiral is made of a coarse, dark tile path that both leads you downwards to a campfire site in the centre of the spiral as well as up towards the top of the embankment, from where you have an overview of the landscape and Jyske Ås.
Inside the curved bank is a dome-shaped cave, in which integrated plates convey a detailed narrative of Jyske Ås. The moulded concrete walls gives a rough look, and the cave atmosphere is supplemented by the dark tiles that pour into the cave from outside.
When you step inside the cave, a shred of LED-light along the floor is turned on automatically, while the rest of the room remains in dimness without electric light. Only a circular shaped hole in the cave ceiling lets a small cone of light fall into the cave. The position of the hole in the ceiling is not accidental. The hole is placed so that the sun is positioned directly over the hole and lights down at an information plate at 10 o'clock on the longest day of the year - summer solstice - and lights up the cave.
The information plates and posters in the cave tell about the creation of Jyske Ås' hilly landscape located in the middle of the otherwise very flat grounds of North Jutland.
Just next to the information centre-cave you find another, smaller cave with a toilet inside. Both caves are integrated in the monument.
Landscape architects Schønherr has designed and developed all physical elements within Porten til Jyske Ås.
You find Porten til Jyske Ås close to exit 15 "Jyske Ås" on highway E45 to/from Frederikshavn. Drive westward along Ø. Thorupvej until you hit a rounabout. Here, you go approx. 200 m along Aalborgvej and you will arrive at Porten til Jyske Ås.