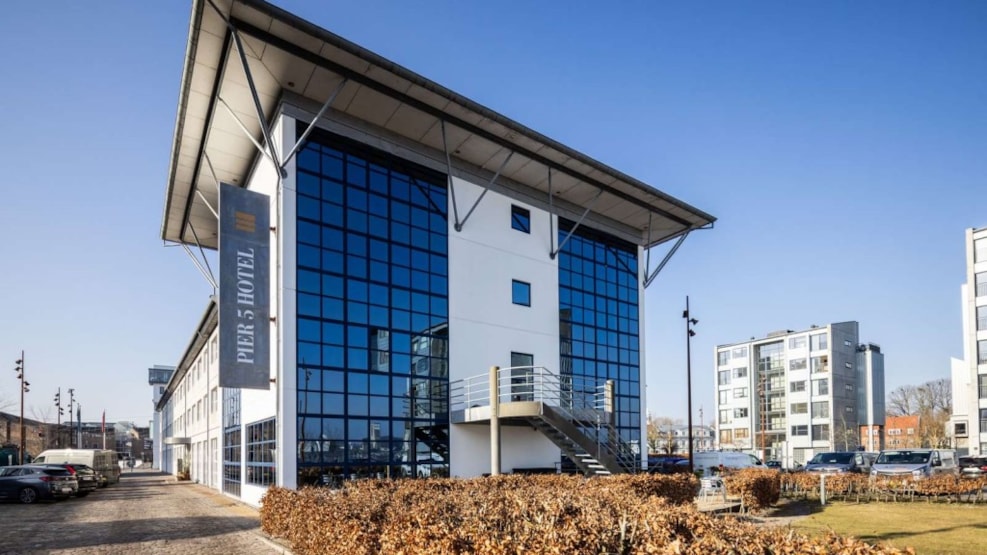 Green Experience
Pier 5 Hotel - Venue
Located on the waterfront between two of Aalborg's pearls, Musikkens Hus (the House of Music) and the Utzon Center, and within walking distance from Aalborg's vibrant city life, you can find Pier 5 Hotel (prev. Slotshotellet Aalborg)
Conference and meeting facilities
Pier 5 Hotel has two light meeting rooms with a beautiful panoramic view of the Limfjord. Here, there is space for up to 60 participants, depending on how the tables are arranged. In the meeting rooms you can find AV equipment, a projector, laptop, whiteboard, canvas, flip over and Wi-Fi.
At Pier 5 Hotel your meeting is the main focus, meaning the hotel will tailor your meeting according to your wishes and needs. Regardless of the time of the day, the hotel's talented kitchen staff is ready to ensure that your wishes regarding the menu are met.
Accommodation
Pier 5 Hotel has 156 light and spacious rooms, 12 of which are Junior Suites with a view, or partial view, of the beautiful Limfjord. All the rooms are equipped with Jensen luxury beds, allergy-friendly duvets and pillows, oak floors, flat screen TV, shower, bath tub and WC. All the Junior Suites also have a telephone.
Restaurant
When you stay at Pier 5 Hotel, you have a chance to wake up and enjoy a delicious breakfast buffet, consisting of both warm and cold dishes, as well as fresh vegetables and fruit.
Other facilities
As a guest at Pier 5 Hotel, you can unwind and assimilate the day in the hotel's gym, which is equipped with a variety of machines. The gym is open from 7:00-23:00.
Sustainability at Pier 5 Hotel
FIRST TO GO GREENER
Pier 5 Hotel wishes to run the hotel with as much consideration for the environment as possible and has therefore decided to join Green Key. They work to minimise the hotel's effect on the environment, without affecting the comfort experienced by guests. Click here to read more about the actions taken by the hotel to lessen their environmental impact.