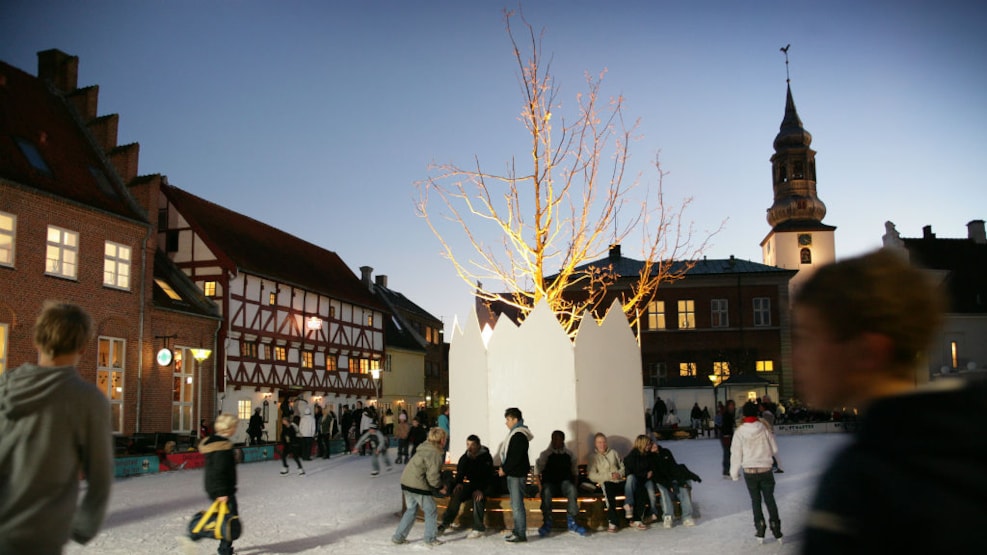 Outdoor ice skating rink
Every winter, the C.W. Obels Square is turned into a winter wonderland when the ice skating rink is being set up. Here, it is possible to try ice skating or to visit the christmas market which is near by.
Whether you are dreaming of becoming an ice prince or princess, or just want to have fun, you can go ice skating at the beautiful C.W. Obels Square in the heart of Aalborg during wintertime.
The skating rink is surrounded by some of the best cafés in Aalborg, where you can get warm and enjoy a cup of hot chocolate after your activities at the rink.
It is free to use the rink if you bring your own skates. Otherwise it is possible to rent skates at the rink.
Opening hours for ice skate rental:
Mon-Fri: 15:00-20:00 (week 52, 53 and 8, 12:00-20:00)
Sat-Sun: 11:00-18:00
Rental price: 30.00 DKK
The ice skate rental is closed on the 24th, 25th and 31st of December, and the 1st of January.
In case of bad weather such as snow or warm weather, the skating rink will be closed.