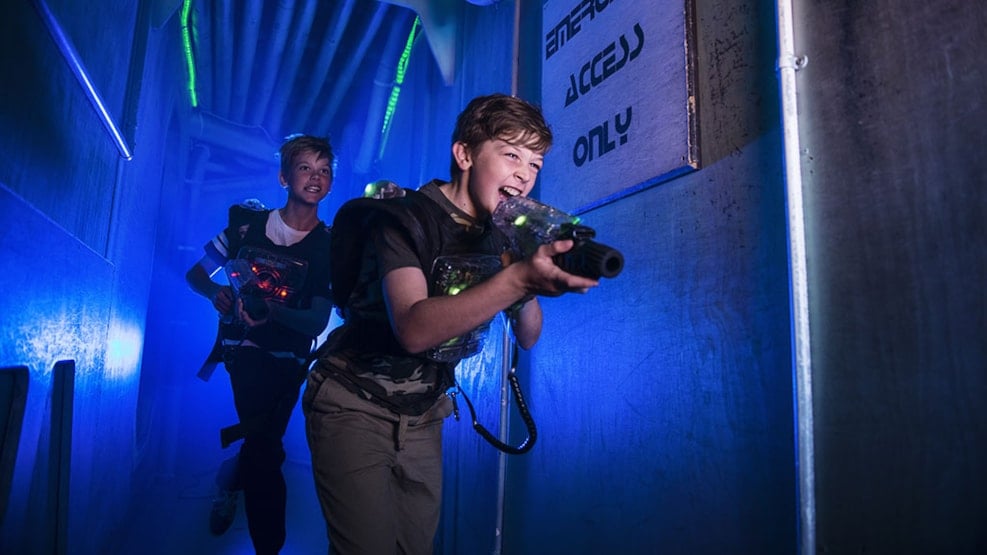 Maximum
Maximum is the largest centre of entertainment in Northern Jutland with 12.300 m² and more than 10 different activities for all ages.
Maximum in Aalborg City Syd is part of Denmark's largest chain of bowling and amusement centers, and is impressive in both size and number of diverse amusements. Here it's simply fun and there are challenges for everyone! Bring your family, plan your next trip with friends or colleagues - and set plenty of time aside! Meals can be enjoyed in the Center's Grill, which serves brunch, lunch and dinner.
Activities and amusements
Bowling
In the bowling alley there is regular bowling for children and adults of all ages during weekdays and daytime, while the festive mood of the Bowlroom concept, with light shows, music and competitions, is turned up on Friday and Saturday nights.
Trampoline Park
The large trampoline park is no less than 2,500 m², and besides lots of continuous floor-to-wall trampolines, the area consists of other challenges, such as wipeout and Ninjabattle lanes.
Happie's Legeland
Huge play area with more than 1500 m² with everything from trampolines and bouncy castles to roller coasters, ball pool and climbing tower. Everything that smaller children think is fun!
Cube Ultimate Challenges
A modern "Prisoners at the Fort" concept with 25 activity rooms to be forced. Teams of 3-5 people must complete a number of tasks, either individually or in teams. The combination of brain, physics, precision and skill are the key words in this new and exciting activity that challenges your technical, tactical and physical skills!
Virtual Reality
Put on your virtual reality glasses and have wild experiences with friends on a mission in the arena. Our virtual reality is equipped with everything needed to complete the experience - you feel the wind and heat, hear the sounds and grab the gun!
Escape Room / Break in Room
The 5 different Escape Rooms or Break in Room offer different themes - discover the magic of Atlantis, visit the eerie prison in the Walking Death room or try to escape the leftover nuclear reactor in under an hour, otherwise you run out of oxygen! The rooms are very authentic!
Laser Hero
Here you can legally shoot the boss, kill the mother-in-law or hit your best friends! A great light and sound show provides the setting for the right mood for an exciting hunt for points!
Minigolf
Fun and challenging mini golf course with 12 holes.
Social Dart
With the 4 interactive darts, precision jokes between friends are added! Enter the number of players, take your pictures and play the many different darts games.
Wilt
Wilt welcomes you to an experience you will never forget. With a guarantee of fun and entertainment Wilt welcomes their guests to try some of their many different activities such as escape rooms, rodeo bull, wipe-out, bumper football, archery, and more. The different activities ensure fun for everyone. Wilt is an ideal place to hold a bachelorette, company events, family parties or a fun day trip with friends.
Boule
With 3 brand new indoor boules there is a guarantee of a smile on the lips and good entertainment for both young and old. Boule is the cozy game not to be underestimated!
Of course, Maximum also offers wonderful events for child births, family birthdays, meetings, conferences, Christmas lunches or other celebrations. There is a guarantee of good laughs, lots of fun and challenges for all skills!
Read more about Maximum in Aalborg City Syd...
Travel sustainably with bus and train in North Jutland
Getting around North Jutland with public transport is effortless. Plan you trip with bus, train or 'Plustur' on rejseplanen.dk.