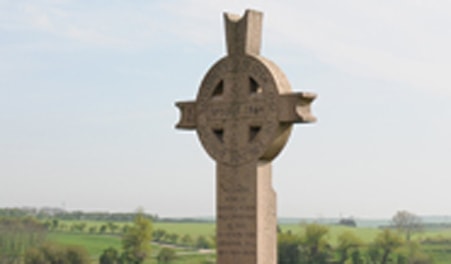 Lundby Memorial
Lundby Memorial was created in 1914 for the Danish soldiers who fell in the battle of Lundby, a collision between Danish and Prussian soldiers northwest of Sønder Tranders on the 3rd of July 1864.
In 1964, on the 100th anniversary of the battle, a memorial plaque was formed and placed, naming the 34 soldiers who lost their lives on July 3rd, 1864.
The memorial is designed as a Visby cross, which was first seen in 1361 at a cemetery on Gotland in memory of the 1800 peasants who were defeated by the brutal army under King Valdemar Atterdag (ed. Otherday). It was placed in front of the thick town walls of Visby.
In 1970, a foundation with the purpose of gathering means to pursue and develop traditions created by Lundby's locals was established in connection with the anniversary of the battle of Lundby. The foundation and the locals of Lundby have made a small museum with pictures, wall sheets with information, and a model of the battle.
The museum is open every Tuesday from 7-9 PM. If you wish to visit the museum outside the opening hours, you can contact Leo Christensen at +45 9831 4684.