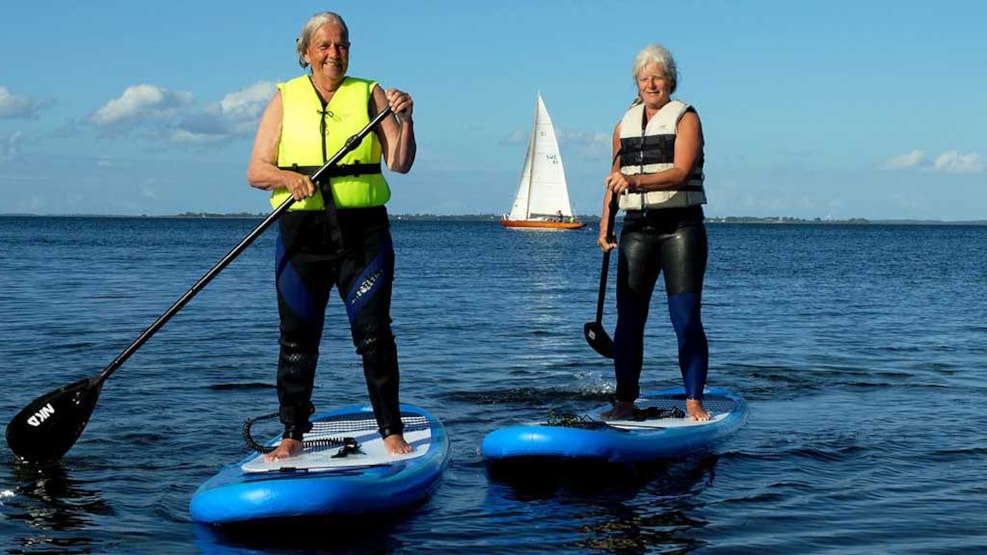 Lodsens Daughter in Hals
Lodsens Daughter in Hals is a place where nature and fun family-friendly experiences meet. Along the beautiful East coast, you can try your hand at SUP, spend the night on the water, go fishing and more.
At the pier in Hals in the old lodge, you will find Lodsens Daughter, which offers a number of opportunities for activities on the water. The range of activities is diverse and you will, therefore, find something for all ages. This is the perfect place to gather the whole family or a bunch of friends for a day full of fun and enjoyable experiences.
Sail on the blue sea
At Lodsens Daughter you can rent a boat and embark on an adventure on the water. The boat gives you the opportunity for a leisure stroll along the harbour, town and coast and is also perfectly suited for a fishing trip. Onboard there is plenty of room for all your gear, from the fight you catch to the picnic basket you've brought along, the day can easily be spent at sea relaxing. In addition, there is also a small dinghy which is perfectly sized for the children. During your trip, you can throw the anchor at one of the many sand islands, and collect clams and oysters or take a dip in the clear water.
Stand Up Paddle
If you would like to try a Stand Up Paddle Board (SUP), then Lodsens Daughter is the right place to do so. At Lodsens Daughter you can take courses with the owner Grete throughout the summer or simply rent the SUP and go alone. The amazing thing about stand up paddle boards is that it's both a sport for those who seek adrenaline rushes as well as those who seek a way to experience nature and calmness - because you decide the pace.
At Lodsens Daughter you will find a certified SUP instructor who knows the area better than most. She is ready to accompany you, your friends and family on an incredible trip along the coast of Aalborg. There are plenty of opportunities to "stand on water" in Hals, I nice trip to the small island of Mallorca where you can see the seals resting on the beach, or you can try the Sunrise trip from Hou to Hals.
In Hals, you will find an abundance of beautiful places to explore when you are out on the open waters. SUP in Hals is for everyone, as the soft waves on the east coast of Denmark are very child friendly, even if you were to fall off your board.
The charming 'Houseboat'
Have you always dreamed of experiencing what it's like to live on the water? At Lodsens Daughter you can experience just that on their charming four-person boat. You can rent the boat for a half or full day to several days, and it is therefore ideal as a day trip or as an alternative accommodation during your holiday. Unfortunately, the houseboat is not able to sail but simply floats on the water, we assure you that your stay will be a unique one within the marina.
Something extra
If you don't have your own fishing gear and bait to catch tonight's supper, or are you lacking equipment for activities for the little ones such as a rowing boat or something completely different - Lodsens Daughter will be happy to help you!
Read more about Lodsens Daughter in Hals (in Danish)…