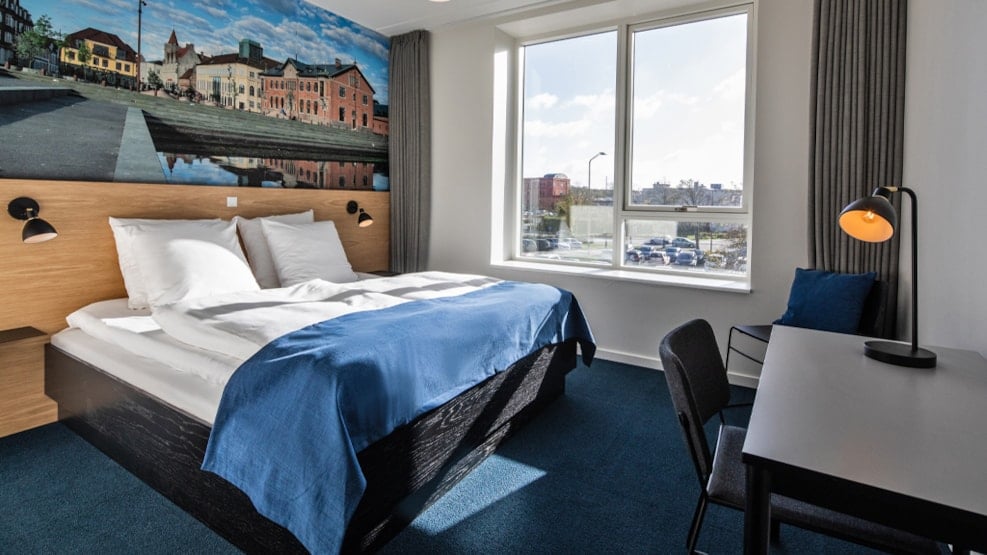 Green Experience
Kompas Hotel Aalborg
In the centre of Aalborg, near the Limfjord and shopping streets, Kompas Hotel Aalborg is located. In the newly renovated rooms, you and your family will get a good night's sleep for a reasonable price.
Kompas Hotel Aalborg was formerly known as Aalborg Seamen's home. Today it is a modern hotel with rooms for both business and pleasure, while it still prioritizes charity and the values connected with a seamen's home.
The hotel has 111 rooms, divided between single rooms, double rooms and business rooms. Every room has its own bathroom, desk, TV, and Wi-Fi-access. Some of the rooms also have a splendid view of Musikkens Hus, the House of Music, and the cultural centre Nordkraft.
Breakfast and entertainment
A stay at this hotel always includes breakfast. Furthermore, the hotel offers facilities for table football and billiards, or for you to enjoy a cup of coffee or something similar. In the basement, you will find a sauna, and for larger groups and on special occasions, the hotel offers massages. All guests have free access to a fitness centre within short walking distance.
The location of the hotel makes it easy to arrive by car from the motorway or by public transportation. The hotel offers free parking.

Read more about Kompas Hotel Aalborg...