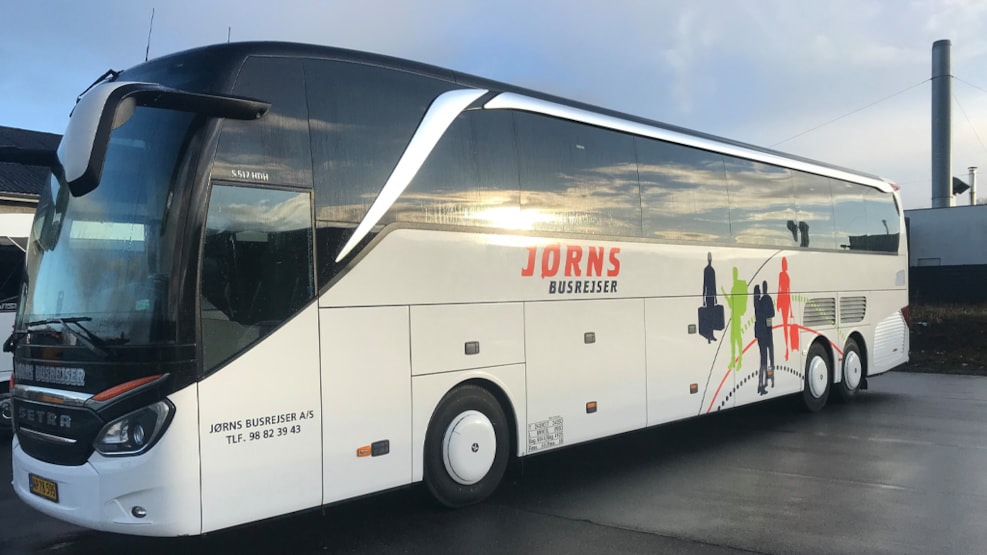 Jørns Busrejser
At Jørns Busrejser nothing is too small or too big, which means that here all possibilities are possible! From family trips around North Jutland to business trips and charter tours around Europe.
Back in 1979, an independent company grew in Brønderslev, which back then consisted of only one bus and one man. Over the next decades, the one-man business grew larger and larger and today Jørns Busrejser is a well-known company offering bus travel, excursions, charter trips and much more, for both companies, institutions, and individuals.
With the customer at the centre
At Jørns Busrejser it is important you as a customer is at the centre of attention throughout the whole trip - every day, every hour and every minute. That's why all the drivers at Jørn Busrejser are experienced and service-minded, providing a comfortable atmosphere. Furthermore, Jørns Busrejser is ready and capable to drive with passengers with disabilities, so there is nothing to worry about.
Besides having the customer at the centre during the journey, you are also the centre of attention before the journey. In other words, Jørns Busrejser can help with for example suggestions for activities and excursions, and practical challenges you may face on the trip.
Comfort first
Apart from the numerous tour options, there are also several bus options when it comes to choosing a bus that fits your specific needs. At Jørns Busrejser you can book a modern and environmentally friendly bus with exactly the comfort level you want. Are you looking for high luxury? Then the VIP bus is the one for you. In this bus, you can enjoy the ride in comfortable seats or in a sofa arrangement, have a beer, enjoy a cold drink from the fridge, keep the party private behind tinted windows, and much more. There is also the possibility of catering. In any case, the staff is always at the phone and ready to set your trip up - from an idea to an adventure.
Read more about Jørns Busrejser in Brønderslev (in Danish)...