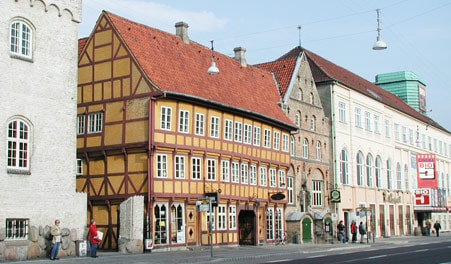 Jørgen Olufsens House
Jørgen Olufsen's Gård is the best preserved merchant's house from the Renaissance to be found in Denmark. The three-story warehouse is equipped with hoists and the doors to the grain lofts can be seen.
In the gateway on Østerågade, right next to Jørgen Olufsen's Gård, you can find an iron bar with a large hook. Scales and weights used to be hung on this hook so that the goods could be weighed in front of the customers, ensuring that they were not being cheated. Seen from Østerågade, the building consists of a stone structure with its gable end facing the street and a half-timbered wing. 
Mayor Jørgen Olufsen
The stone structure with its high steps is richly decorated. Above the sandstone portal, which features both male and female supporting figures, the initials of the mayor who lived in this house in 1616, Jørgen Olufsen, can be seen.
A little higher up in a niche there is the figure of a charming woman who carries her 360 years remarkably well. She is known as the "Aalborg girl".
Brothers Jørgen Olufsen and Jens Bang
Jørgen Olufsen's half-brother was Jens Bang, who built his house in number 9, just a little further up the street – don't miss it.