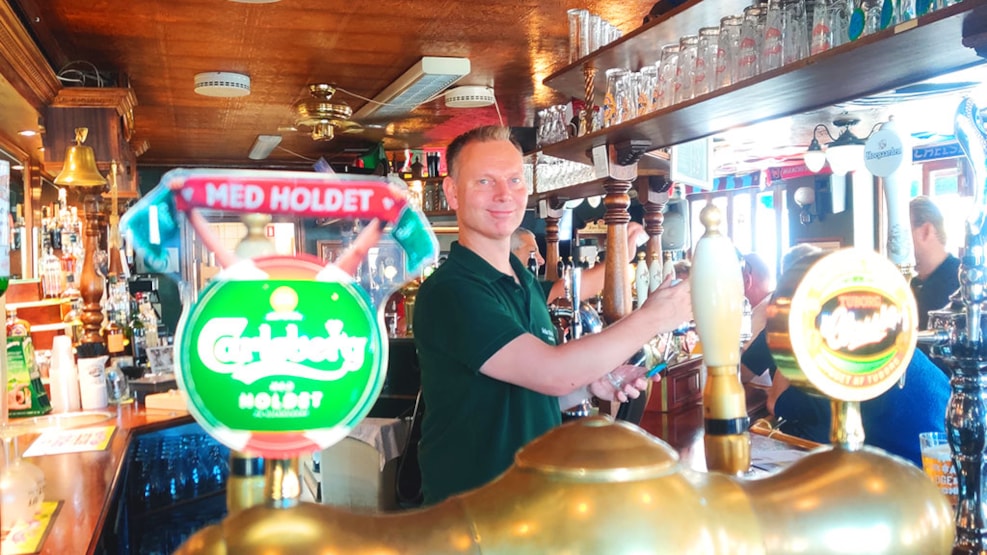 John Bull Pub
John Bull Pub is a classic English pub with a cosy atmosphere. Here you'll find one of the largest selections of both Danish and foreign beer brands in North Denmark as well as a wide range of whiskeys.
The pub is perfectly situated on the beautiful square Toldbods Plads with a view of the famous Toldbodsplads Springvandet, which is the first musical fountain in Denmark. When you step inside John Bull Pub, you are met with a homely atmosphere with classic English wooden furniture and football jerseys hanging in the ceiling. Each month the pub introduces a "beer of the month", which is selected among the best breweries in Europe.
Always an event on the program
Live music is on the program every Saturday, but also on some Thursdays and Fridays. You can always watch a football match live from the major leagues in Europe on the giant screen. The last Monday of each month the pub hosts a classic Pub quiz, which is open for all – with prizes for the winners!
Aalborg Beerwalk
John Bull Pub is part of Aalborg Beerwalk – a great way to familiarise yourself with the best pubs in Aalborg. With this offer, you can sample 6 well-poured special beers from 9 different pubs in the centre of Aalborg.
John Bull Pub is open all days of the week.
Read more about John Bull Pub in Aalborg…