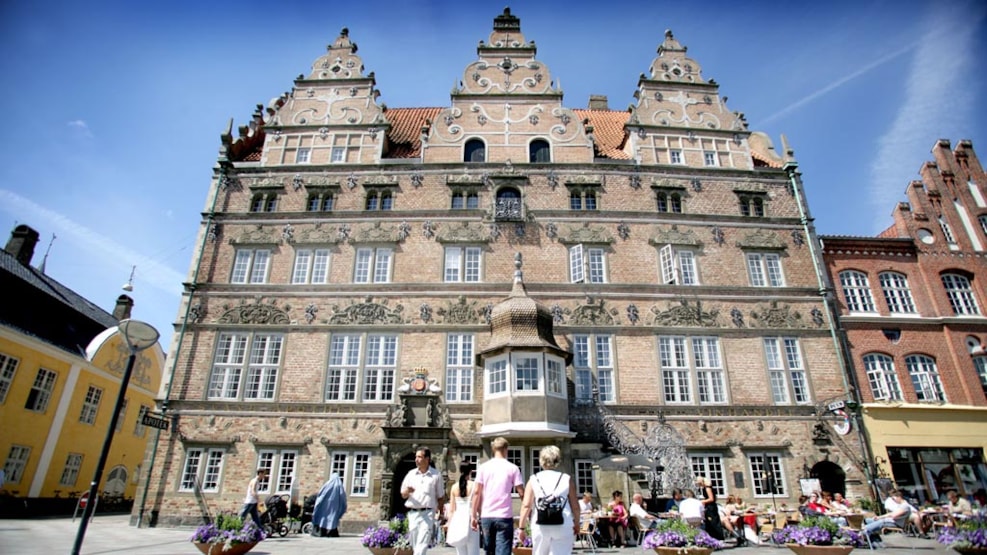 Jens Bang's House
Jens Bang's House was a giant in the Aalborg cityscape of the past. The house was built during the Renaissance in 1624, and it is one of the biggest and most photographed historical sites in Aalborg.
Svane Apoteket (the swan pharmacy) was located in Jens Bang's House from 1666 to 2014. Today it is not possible to enter the Stone House, but by appointment with Aalborg Historical Museum, you can experience Apotekersamlingen (the old pharmacy collection) on the top floor of the building. Usually, you have a chance of a guided tour every Saturday during the summer, but remember to buy tickets beforehand at Aalborg Historical Museum, Algade 48.
Jens Bang
Jens Bang was a typical renaissance figure – merchant, splendour-loving and talented – but also pugnacious and opinionated. However, he was not unusual at his time. Jens Bang was the brother of the mayor of the time, Jørgen Olufsen, who in 1616 built his well-preserved merchant's house with shop and adjoining buildings in the middle of Aalborg.
A good story
At Jens Bang's time, evil tongues whispered about how the grotesque and multifarious masks and heads used as decorations on the building were caricatures of his many enemies, and how portraying them in this mocking manner was his way of getting revenge. Even though Jens Bang was the wealthiest man in Aalborg, he was never part of the rule of the city. This was why he had the time to sit at the gable of his house, sticking out his tongue at the old city hall.
Chr. IVs Laug (Chr. IV's Guild)
In the basement of the house Duus Vinkælder can be found. This is also the place where Chr. IVs Laug can be found. Among other events, Chr. IVs Laug hosts two initiation rituals during the celebration of the 4th of July. Both initiation rituals are for those who are to be accepted into the guild, but everyone is welcome to observe the rite.