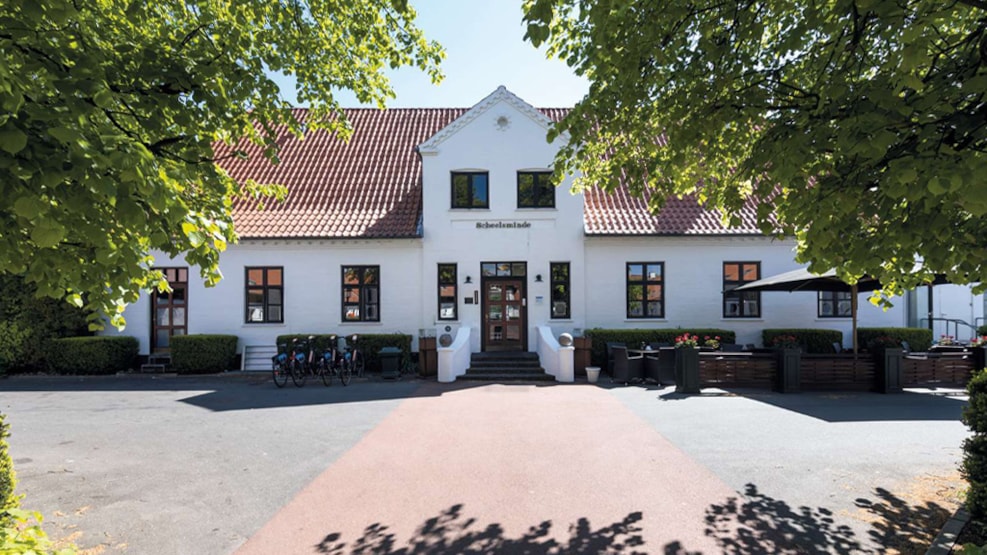 Hotel Scheelsminde - Venue
Just a 10-minute drive outside Aalborg you can find Hotel Scheelsminde, the only hotel in the city that used to be a manor house. The building is from 1808 and has previously functioned as an experimental lab for The Danish Spirit Factories
Hotel Scheelsminde is run by the Bühlmann family and functions as both a hotel, restaurant and conference centre. The hotel also arranges parties, events, experiences and much more. With its many facilities, the hotel is perfect for couples, families and business people, as well as anyone else who wishes to experience the historical setting of the hotel.
Conference and meeting facilities
As a 4-star conference hotel, Scheelsminde offers conference and meeting rooms of a high standard, equipped with all the technical facilities you can think of. The hotel focuses on creating space for breaks, which plays a large role in the success of a conference or meeting.
Hotel Scheelsminde has five unique meeting rooms, each completed with modern AV-equipment and air conditioning.
Accommodation
Hotel Scheelsminde has 90 modern and cosy rooms, all of which are equipped with their own bathrooms, coffee and tea facilities, free Wi-Fi and TV. At the end of a long conference day, you are free to use the hotel's small pool area, which has a pool and two spas. Additionally, if you would like to relax in your room as opposed to eating dinner at the hotel's restaurant, the hotel also offers room service.
The hotel's rooms are divided into five categories, allowing you to find the perfect room for them. In the mornings, you can enjoy a large breakfast buffet. On weekdays, the buffet opens at 6:30, and during the weekend it opens at 7:30.
Hotel Scheelsminde has multiple specially equipped rooms for guests with reduced mobility.
Restaurant
At Hotel Scheelsminde, you will find the reputable Restaurant Bühlmann, which has been mentioned in both the White Guide Nordic and Den Danske Spiseguide (the Danish Dining Guide). The restaurant serves the "taste of today", which means that they alter their menu every day, in order to be able to serve the most delicious produce on the very same day that it has been caught, butchered, aged, harvested, picked or smoked.
Other facilities/possibilities
There is free parking right outside the hotel. Additionally, Hotel Scheelsminde offers a variety of different facilities and possibilities that you can read more about on their website.
Sustainability at Hotel Scheelsminde
Hotel Scheelsminde utilises a linen distributor (DFD) which possesses several ISO labels. These labels reward the fact that, to a large extent, the handling, cleaning and transportation of products is eco-friendly and sustainable.